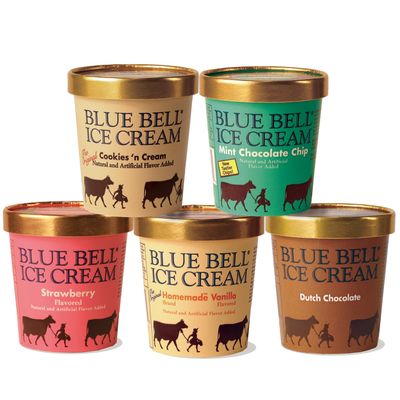 Real collector's items.
Photo: Courtesy of Blue Bell
No one can purchase Blue Bell ice cream right now, as it's been recalled because of a deadly listeria outbreak. But Americans want what they can't have, of course, and a black market has sprung up on Craigslist and eBay.
One ad listed half a tub of vanilla for $500. "No listeria (I ate the first half and i'm still here)," wrote this person, who obviously doesn't know much about listeria. Another hawker figured a better route was hyping a pint of cookies 'n' cream as "pre-recall" — which savvy buyers will know is by no means a guarantee of its safety.
While some of the ads have clearly been tongue-in-cheek, like one by an individual who wrote that potential buyers "could be a part of history by purchasing it," or another by a man who wants $10,000 for a pint of Krazy Kookie Dough, there's still only one cure for this idiocy: get the stuff back on shelves. For that reason, Grub will hold out hope that a return by Memorial Day isn't so "ambitious" after all.