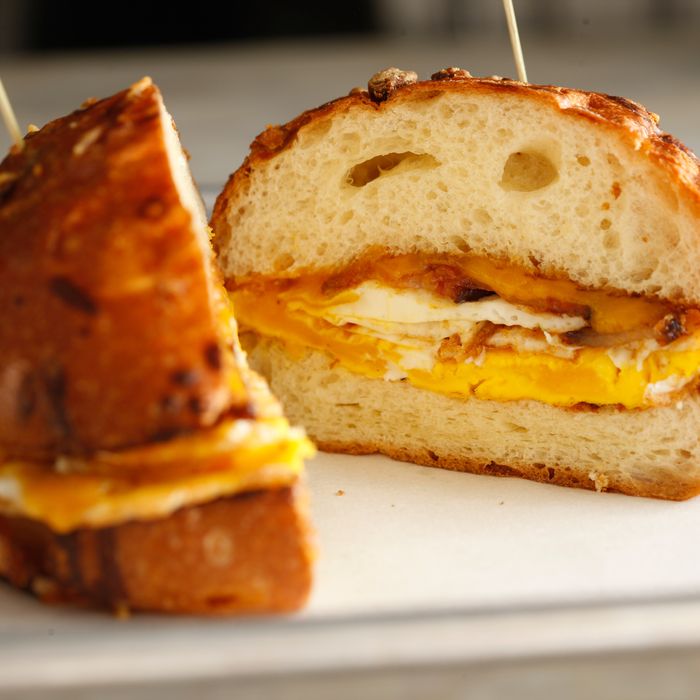 The BEC classic: smoked bacon, sharp cheddar, brioche bun.
Photo: Melissa Hom
Back in February, New Yorkers learned the city would get a new Chelsea shop devoted entirely to the BEC — that glorious combination of bacon, egg, and cheese, stuffed inside a roll and wrapped up for on-the-go hangover relief. And this week, that shop, called BEC, officially opened its doors at 148 Eighth Avenue. But a funny thing happened during the time in between: The New York Times took the whole concept of elevated breakfast sandwiches to task and basically laid out the argument for why people shouldn't mess with these sandwiches.
But where would we be as a society if we just stopped innovating and decided things are fine the way they are? For her part, BEC owner Jessica Bologna is diplomatic about the whole situation: "I'm just glad so many people share the same passion for the bacon-egg-and-cheese," she says, adding, "we're not trying to compete with the corner bodega." Grub loves a deli bacon-and-egger as much as the next person, but there is almost certainly room in this city for slightly more thoughtful versions, too. Plus: Bologna's shop is open until 10 p.m. every day (with plans to eventually stay open later, and offer delivery, as well) and as of today, she'll sell wine and craft beers, too.
Far be it from us to tell you which breakfast sandwich you should turn to when the mood strikes, so just take a look at BEC's offerings and decide for yourself: