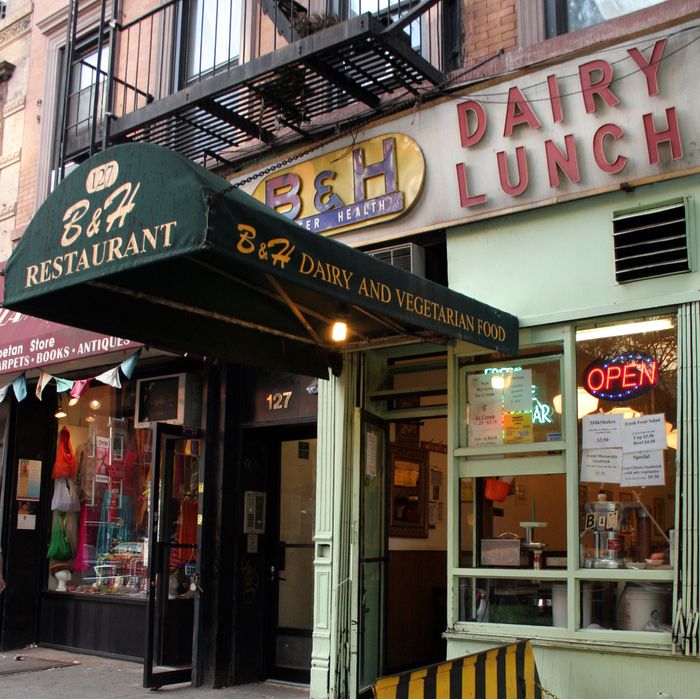 Dark for seven weeks.
Photo: Youngna Park
In the immediate aftermath of March's devastating Second Avenue explosion, several local restaurants, including kosher classic B&H Dairy, went dark. But while most have since reopened, the 76-year-old lunch counter has remained closed owing to a series of setbacks involving city permits, repairs, and upgrades. Now the lunch counter's return has been pushed back yet again, as the Fire Department told owners Fawzy and Ola Abdelwahaad that it'll need to upgrade the fire-suppression system first.
The Abdelwahaads are asking customers for help in the form of a crowd-sourced Kiva Zip loan of $10,000: The loan will help cover repairs, salary, groceries, and renovation bills. Just a week after the explosion, Fawzy told Bedford + Bowery that he was concerned the closure could sink his business, saying that expenses run $30,000 to $40,000 a month. A single month — much less seven weeks — without any sales is enough to cripple a restaurant in New York, especially one that serves cheap food without any frills. But B&H is a true classic — the neighborhood's only remaining dairy restaurant, and a stalwart from the days when Second Avenue was called the Jewish Rialto. It's absolutely worth saving.