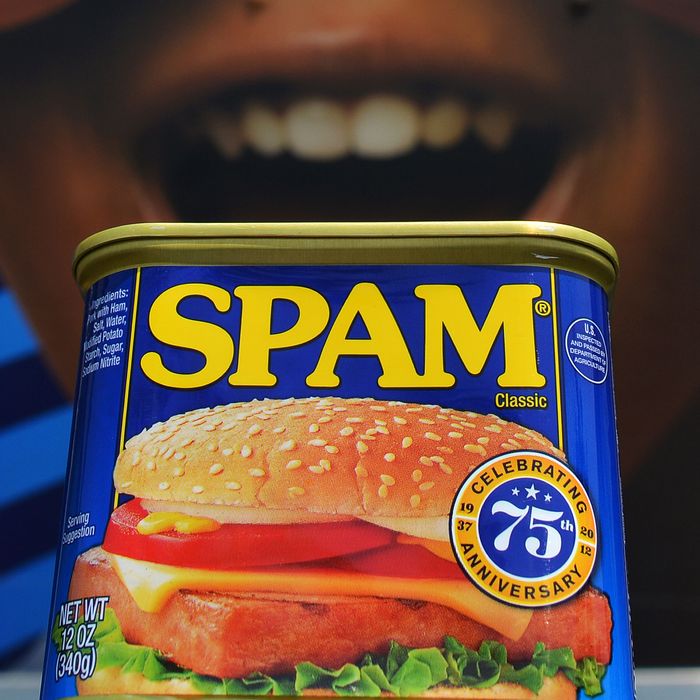 Spam's not so sure about these new officemates.
Photo: Jewel Samad/AFP/Getty Images
Food conglomerate Hormel — better known as the entity responsible for Spam — has finalized a deal to buy organic deli-meat-maker Applegate Farms for $775 million. The Times says that it's Hormel's biggest acquisition ever, and CEO Jeffrey Ettinger thinks it'll finally make his company, whose only organic food right now is Wholly Guacamole, a competitor in the "holistic product area."
Applegate prides itself on producing meats like deli turkey, bacon, and so-called "cleaner wieners" that are all-natural, antibiotic-free, GMO-free, and humanely raised — boxes people love to see checked these days. It's reassuring consumers that they "won't see any changes," but ever since news leaked that Applegate was talking to Big Food, customers have informed the company that they're "horrified, disgusted and downright flabbergasted," signed online petitions, and promised boycotts.
Hormel's plans likely aren't more nefarious than to make a few bucks selling a popular brand of organic meat next to its own products, which probably means the deli aisles at Target and Whole Foods just got that much more similar.
[NYT]