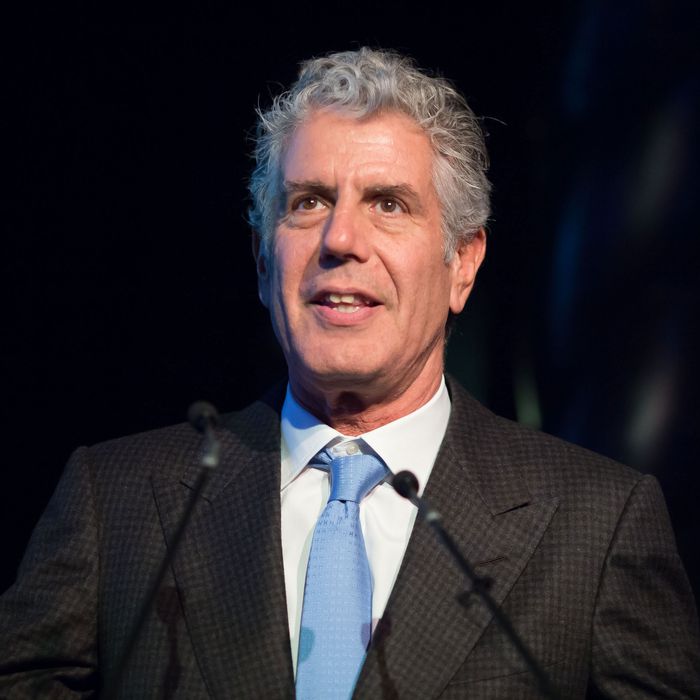 The home-entertaining book is inspired by his role as a father.
Photo: Ben Hider/Getty Images
Eleven years after releasing Les Halles, Anthony Bourdain is getting back into the recipe game. According to Eater, his follow-up cookbook will be called Appetites, and will focus on home cooking and entertaining.
Since this is Bourdain, however, this will not be a typical at-home cookbook. According to a release, "years of prep lists and the hyper-organization necessary for a restaurant kitchen however, have caused him, in his words, to have 'morphed into a psychotic, anally retentive, bad-tempered Ina Garten.'" There will be recipes for essential dishes, including "personal favorites from home and from his travels translated into effective battle plan" for hosting (or, in Bourdain's words, terrifying your guests). Essentially, it sounds like a gonzo guide to household cooking from a punk-rock chef gone cool dad, so the new Hamburglar should like it.
The release also promises that the book will be "lavishly and provocatively photographed," and will take the cookbook genre "to the edge of the cliff — and over." Also: There will be a poster that "depicts and deconstructs the tectonic and structural aspects of the perfect hamburger with text by Nathan Myhrvold." So this will be one to put on your preorder list. The book is set to be released by the chef in the fall of 2016, and he's co-authoring it with his collaborator Laurie Woolever.
[Eater NY]