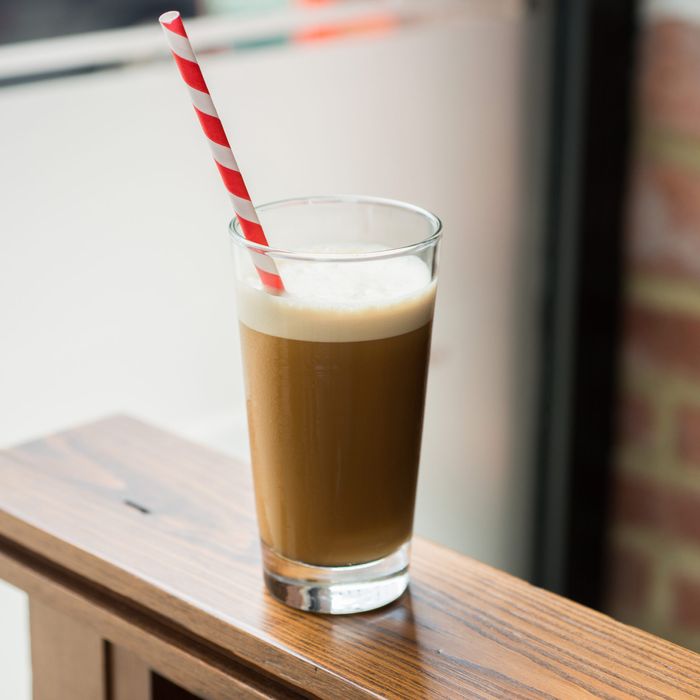 The Red Eye Flip, with coffee and a whole egg.
Photo: Max Zagor
When Danny Meyer's bar Porchlight opened, the Chelsea spot was billed as the hospitality king's first foray into the world of nightlife. Now it looks like Meyer has his sights set on conquering the three-martini lunch — or, rather, pioneering what you might call the half-martini lunch.
As part of a new weekday lunch service launching this week, general manager Michael Shain is introducing four easy-sipping, low-alcohol cocktails designed specifically for disaster-free weekday drinking. Just don't expect wine coolers.
To keep things light, Shain is relying heavily on liqueurs — only one of his cocktails, the Zatarain's spice-blend-spiked Bloody Mary, features a spirit. His other creations include a variant on the classic Pimm's Cup (ginger, celery bitters, and China-China); a trendy sherry cocktail in the Tale of the Bamboo Cutter; and a refreshingly creative spin on spiked coffee, the Red Eye Flip (Meletti, Dolin Rouge, chicory, Cafe Vita coffee, and whole egg). Sadly, there is no martini-lite (yet), but you can also find fortification in the lunch menu of po' boys, pimento-cheese sandwiches, and bison burgers.
Lunch Menu [PDF]