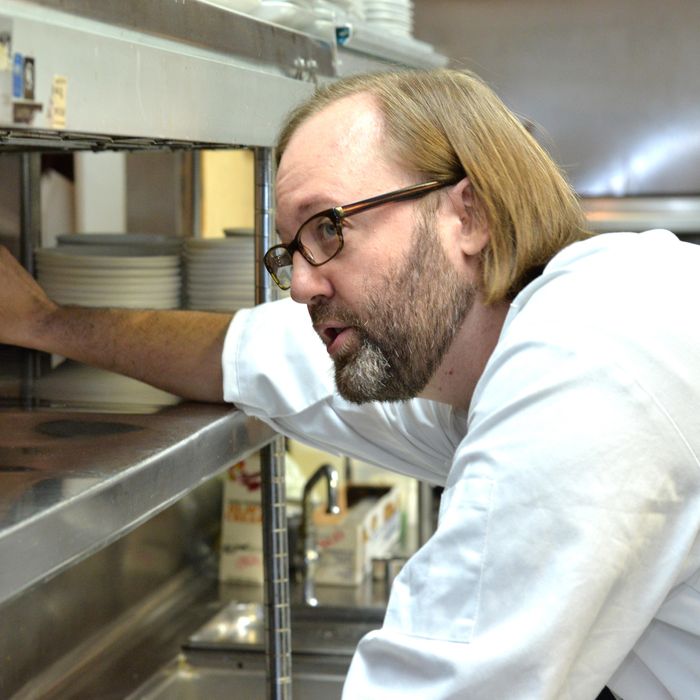 The five-course menu debuts April 29.
Photo: Dylan Rives/Getty Images
Last week, Alex Stupak announced he'd test the tasting-menu waters by slowly rolling out an ambitious set menu at Empellón Cocina, and now Stupak's East Village neighbor (and former wd~50 boss) is doing something similar: The team at Alder tells Grub that, beginning April 29, Wylie Dufresne will introduce a new five-course prix fixe tasting menu comprised of entirely new dishes.
The menu will be $65 per person and will be the only option in the dining room. Look for it to include dishes like "Okonomiyaki silver dollars, grilled octopus, Kewpie mayo" and "Brie ice cream with Triscuit, port wine, pickled cherries." There will also be some new cocktails, such as one lightly carbonated combination of mezcal, golden beets, and grapefruit. Wine pairings will also be available for the menu at a price of $35.
Never fear, fans of pub cheese and the Alder burger: Even though the tasting menu will be offered in the restaurant's main dining-room area, and Dufresne's team is billing this as a relaunch, an à la carte menu will also be available at the bar and in Alder's newly arrived outdoor seating. The plan is to feature some old favorites on that menu, and it also means the burger will now be available seven nights a week.
Dufresne says this new development is a result of his successful Test Kitchen Tuesdays series, which allowed him and chef de cuisine Ryan Henderson to get more creative with the Alder menu than they had previously. "We're excited to have the platform to continue to do that on a nightly basis," Dufresne says, noting that he wants to make sure the prix fixe remains set at an affordable price point.