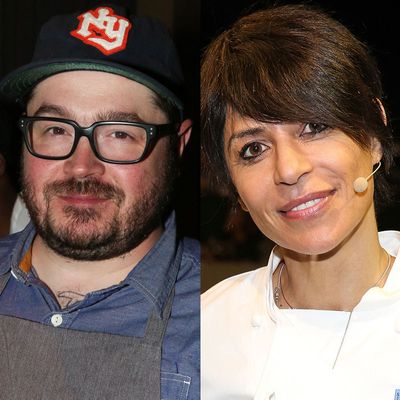 René Redzepi, Sean Brock, and Dominique Crenn.
Photo: Getty Images
Gelinaz! — the group responsible for last year's surprise tribute dinner to Wylie Dufresne — is planning yet another extravagant event. Thirty-seven chefs will leave their homes, travel to a new country, and cook in another restaurant's kitchen. The dinners will take place simultaneously on July 9 — and they're all part of the "Grand GELINAZ! Shuffle."
The lineup, not surprisingly, includes all of the heavy-hitters — like Alain Ducasse, René Redzepi, Yoshihiro Narisawa, Sean Brock, and Dominique Crenn. Today, the chefs learned of their country and restaurant destination, but ticket holders won't have this information until the day of the dinner. It's a total wild card!
What makes this even cooler is that the chefs will live in each other's houses, and as the Gelinaz! release puts it, they'll be "walking their dogs, watering the plants, [and] having breakfast with their family" to immerse themselves in a new culture. It's like the culinary equivalent of House Swap (or, uh, Wife Swap). Tickets are available to the public, and they go on sale on May 13. Here's the complete list of participants:
Danny Bowien, Mission Chinese Food, New York — USA
Sean Gray, Momofuku Ko, New York — USA
Sean Brock, McCrady's, Charleston — USA
David Kinch, Manresa, Los Gatos — USA
Daniel Patterson, Coi, San Francisco — USA
Dominique Crenn, Atelier Crenn, San Francisco — USA
Carlo Mirarchi, Blanca, New York — USA
Blaine Wetzel, Willow's Inn, Lummi Island — USA
Colombe Saint-Pierre, Chez Saint-Pierre, Le Bic — Canada
Claude Bosi, Hibiscus — England
Magnus Nilsson, Faviken, Järpen — Sweden
Peter Nilsson, Spritmuseum, Stockholm — Sweden
René Redzepi, Noma, Copenhagen — Denmark
Paul Cunningham, Henne Kirkeby Kro, Henne — Denmark
Kobe Desramaults, In De Wulf, Dranouter — Belgium
Mehmet Gurs, Mikla, Istanbul — Turkey
Yoshihiro Narisawa, Narisawa, Tokyo — Japan
David Thompson, Nahm, Bangkok —; Thailand
Ben Shewry, Attica, Melbourne — Australia
Jock Zonfrillo, Orana, Adelaide — Australia
Bertrand Grebaut, Septime, Paris — France
Alain Ducasse, La Plaza Athenee, Paris — France
Yannick Alleno, Le Doyen, Paris — France
Inaki Alzpitarte, Le Cheateaubriand, Paris — France
Mauro Colagreco, Mirazur, Menton — France
Alexandre Gauthier, La Grenouillere, Montreuil/Mer — France
Ana Ros, Hisa Franko, Kobarid — Slovenia
Davide Scabin, Combal Zero, Rivoli — Italy
Fulvio Pierangelini, Hotel de Russie, Rome — Italy
Riccardo Camanini, Lido 84, Gardone Riviera — Italy
Massimo Bottura, La Francescana, Moderna — Italy
Massilmillano Alajmo, La Calandre, Venice — Italy
Andoni Luis Aduriz, Mugaritz, San Sebastian — Spain
Albert Adria, Pakta, Barcelona — Spain
Alex Atala, D.O.M., San Paolo — Brazil
Rodolfo Guzman, Borago, Santiago — Chile
Virgillo Martinez, Central, Lima — Peru