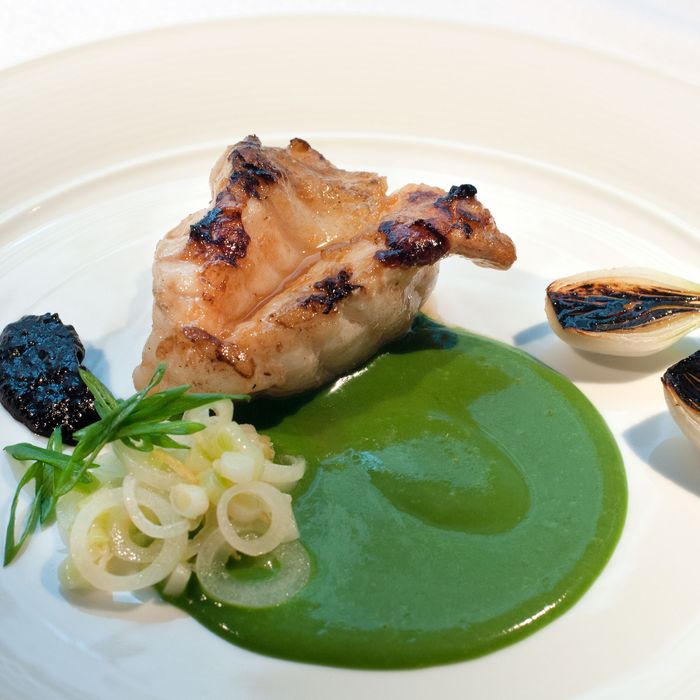 Grilled monkfish, green and black garlic, and lobster sauce.
Photo: Kathryn Palmieri/New York Magazine
When Danny Meyer operated the restaurant at the uptown Whitney, he took inspiration from the neighborhood's landmark coffee shops for its homey, diner-inspired menu. That café's name, Untitled, and a Robert Indiana piece (spelling out the word EAT) are the only elements that Meyer has preserved for his new version of Untitled, opening May 1 on the ground floor of the museum's new home.
The open kitchen is now under the direction of executive chef Michael Anthony, who sees the project as an opportunity to approach seasonal American cuisine from a perspective different from that of his home base of Gramercy Tavern. At Untitled, Anthony and his chef de cuisine Suzanne Cupps have made a menu that reflects both the building's minimalist glass-box design and the Whitney's focus on contemporary art: Whereas Gramercy is dark, wood-beamed, and masculine, Untitled was designed with an emphasis on transparency and openness, intended, says Anthony, "to fuse the nature of inside and outside, so we'll be able to play that to our advantage, cooking food that is light and airy."
The menu is divided into four sections, with dishes ranging from crab hush puppies to grilled monkfish with green garlic and lobster sauce. A vegetable-forward category showcases plates like braised artichokes, and shaved asparagus with turnips and mizuna—a preview, perhaps, of Anthony's forthcoming V Is for Vegetables cookbook. And the Knoll seating is divided almost equally between indoor and out, with the dining room's red cushions lending a burst of color to a palette dominated by concrete, stainless steel, and white oak.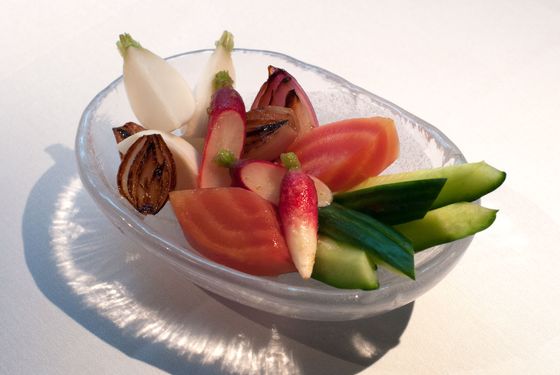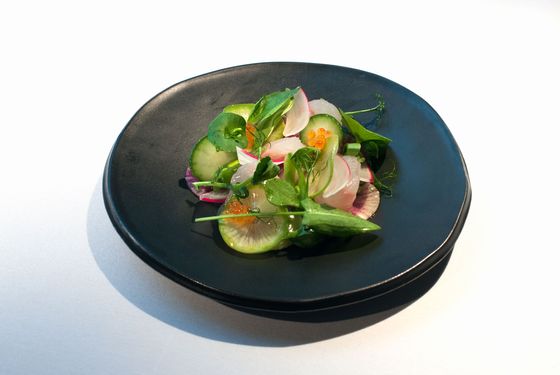 Crab Hushpuppies with pepper sauce, 6
Wagyu Beef Tartare with pine nuts and radishes, 8
Lightly cured garden vegetables, 8
Salted radish, black bass ceviche and fava beans, 7
Fried oysters and ruby port pickled shallots, 9
Fluke with cucumber, sorrel and lime, 14
Whole charred leeks and tangerine, 14
Ruby red shrimp salad with citrus and pistachio, 11
Seared wedge of butter lettuce with lemon zest confit, 12
Black beans and rice with mussels, 14
String beans with sesame sauce, 12
Shaved asparagus, turnips and mizuna, 13
Braised artichokes, carrots and oyster mushrooms, 11
Pole beans and ponzu sauce, 12
Grilled carrots, sugar snap peas and quinoa, 11
Spring green lasagna, home made ricotta, 22
Grilled monkfish, green garlic and lobster sauce, 24
Brook trout, sugar snap peas and spinach, 24
Crispy ginger chicken, bok choy and hen of the woods, 26
Pork tenderloin, fava beans, broccoli rabe and polenta, 28
At the Whitney Museum of American Art, 99 Gansevoort St., nr. Washington St. no phone yet
*This article appears in the April 20, 2015 issue of New York Magazine.