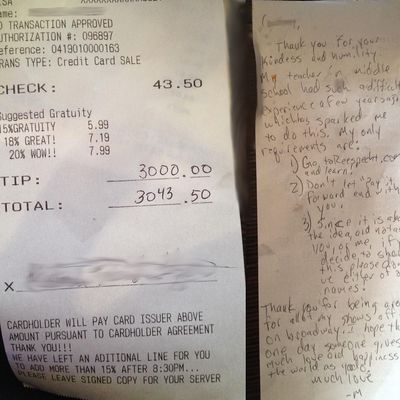 Wow.
Photo: ReesSpecht Life/Twitter
An epic tip has put several thousand dollars in a struggling New York waitress's pocket, and for once, the act had no side agenda or megawatt athlete involved. On a $43.50 bill last week, a restaurant regular identified only as "Mike" penciled "3000.00" onto the tip line — an almost 7,000 percent gratuity. "This woman had been serving us for almost a year now. She's a lovely individual, and she talked about how she was served an eviction notice last month," Mike told Good Morning America after the show tracked him down. The name of the restaurant has been kept confidential as well.
Mike left her a note explaining that something called ReesSpecht Life had "sparked me to do this," referring to a pay-it-forward movement started by Mike's eighth-grade science teacher. Aw.
[ABC]