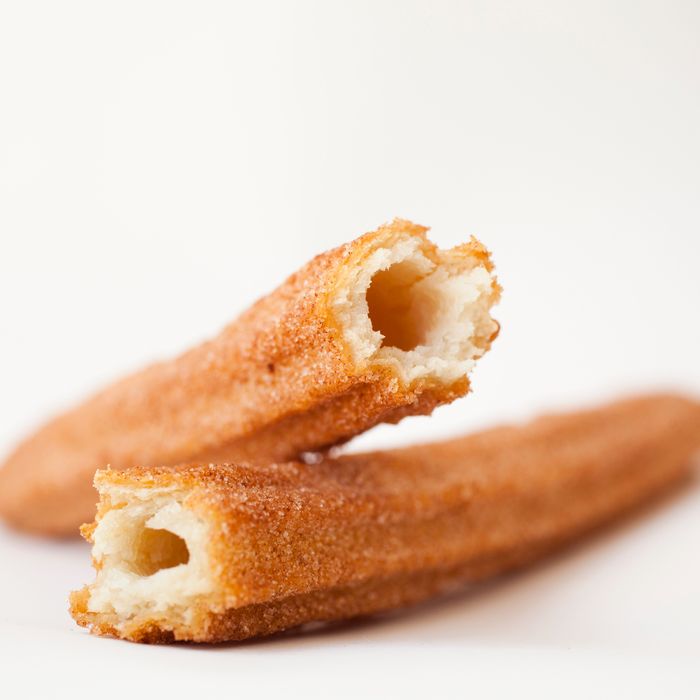 Peace to these doughnuts.
Photo: Lisa Romerein/Corbis
There's a small war waging between churro vendors in New York subway stations and the police: Ana Alvarado — who sells the Spanish-style doughnuts daily in places like Times Square, Grand Central, and 59th Street in Manhattan — has faced seven arrests over two years, and says she lives "running and hiding from the police."
The practice is illegal on a few levels: It's against the law to act as a food vendor without a Health Department license, and New York also forbids commercial activity in subway stations without MTA authorization. After getting arrested, Alvarado has had to watch police confiscate and eat her churros right in front of her — rude! — and she was once held in a cell overnight. The risk is worth it because the profit margin is so high: Alvarado can purchase 200 churros in bulk for $46, and then make close to a $100 profit per day — helping her feed herself and her children.
But here's the good news: The Manhattan borough president Gale Brewer is working toward a solution, and is pushing the MTA to selectively allow vendors, since "there is clearly a market for mobile concessions in subways stations." Hopefully, it won't take too long until vendors and hungry commuters can do churro-related business in peace.
[DNAinfo]