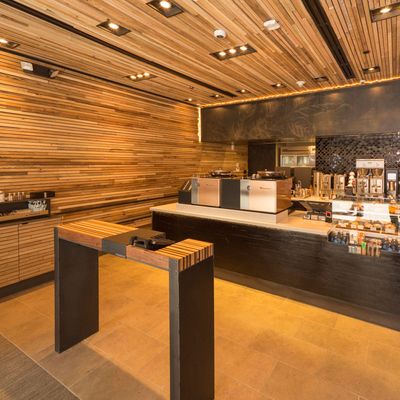 Faster! Faster!!
Photo: John Lei
After telling New Yorkers seven long months ago that Manhattan was getting the first-ever tiny little "Express" store, Starbucks announced it officially opened the 538-square-foot space today, and downtown caffeine fiends in want of Star-bee's coffee, pronto, can find it tucked in the bottom of 14 Wall Street.
With a firm understanding that this shop is just the first of many, the Express concept is being sold as "the 'espresso shot' version" of the Starbucks experience. This first one has no place to sit and a chicly streamlined decor that will hopefully all hint at the fact that you, the valued customer, need to buy your coffee and GTFO. Customers will find an employee stationed mere feet from the entrance with a tablet to minimize even the number of steps required to say, "Grande dark roast." There's also a digital menu board that scrolls options "tailored for New York customers." (For some reason, this display "also serves as a form of art at night," so Wall Street's thriving late-night crowd can appreciate glowing images of coffee farms from the street.)
Sounds very time-saving, but between this, its coffee delivery program, and the rollout of mobile trucks, it's possible Starbucks is really just trying to find ways to sell coffee without also offering public bathrooms.