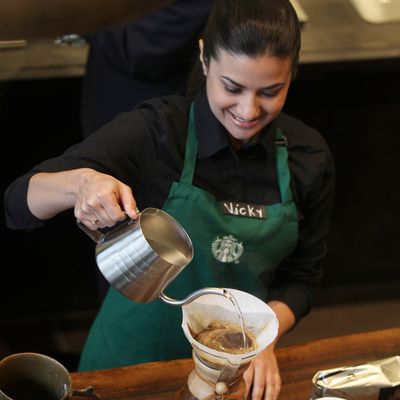 Baristas with bachelor's.
Photo: John Vizcaino/Corbis
While McDonald's continues to struggle with its benefits, Starbucks has announced that its baristas can now go to college completely on the company's dime.
It's expanding the Starbucks College Achievement Plan that it rolled out last summer, through Arizona State University's online degree program. The initiative will now cover four years of tuition instead of just two. The upgrade also eliminates two other obstacles: a requirement that employees already be juniors or seniors to qualify, and the lengthy wait for tuition reimbursement.
Starbucks originally imagined "thousands" of its U.S. employees (there are 144,000 total) would enroll in the program, which received a big endorsement from Education Secretary Arne Duncan, but it looks like so far, only a little under 2,000 have signed up. With one recent failed initiative under its belt, Starbucks is throwing a lot more money behind this one — $250 million, or more if necessary — which it believes will be enough to get 25,000 employees their degrees over the next decade.
[USAT]