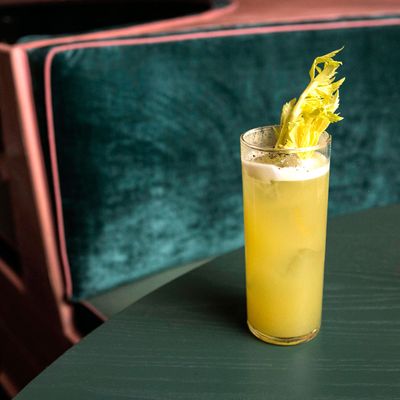 One strong option from the Happiest Hour, in the West Village.
Photo: Courtesy of The Happiest Hour
Even if it doesn't quite feel like it outside, it's springtime in New York — and that means it's time for the city's bars and restaurants to update their menus. Bartenders are starting to use ingredients like rhubarb syrup, fresh berries, and celery juice, and conceive new riffs on mimosas, gimlets, and Pimm's cups. Remember: Just because it's not yet warm enough to wear shorts, it doesn't mean that you can't get a head start on seasonal drinking. Here are 21 excellent new drinks at some of Grub's favorite spots around town.
The Link Ray
Where: The Happiest Hour
Price: $12
Beverage director Jim Kearns combines lime juice, celery juice, cane syrup, and Suze (the French liqueur made from gentian root) with the customer's choice of jalapeño tequila, rum, or gin to make this drink, then he shakes and pours the mix into a highball glass. To finish: a half-rim of celery powder and salt, and soda, ice, black pepper, and a celery-stalk garnish. Consider it a healthy serving of vegetables, which should perfectly balance out the West Village bar's stellar burger.
Needle Park
Where: King Bee
Price: $11
This new-ish East Village restaurant serves a spinoff of the mimosa, with Cerdon (sparkling wine from Bugey, France), clarified orange (made in-house by freezing fresh orange juice with liquid nitrogen and then straining it), and fresh thyme.
Red House Cobbler
Where: The Up & Up
Price: $14
Owner Matt Piacentini says that this drink is an homage to William Morris's home in Kent (England), as it was popular in Morris's time. It's a mix of gin, Fino sherry, lime juice, and raspberries, and, according to Piacentini, it has a "a bright, crisp feel, while leaving the telltale nutty finish of the sherry intact."
Spring Fling
Where: Colonie
Price: $12
New to Colonie's menu is the aptly named Spring Fling, made with fresh rhubarb juice, El Dorado rum, Smith & Cross rum, Pierre Ferrand Dry Curacao, Campari, lime juice, and house-made grenadine. The cocktail comes in a Collins glass, with crushed ice and fresh mint.
The Juicy Fruit
Where: Streetbird Rotisserie
Price: $9
Marcus Samuelsson just opened his new chicken-focused Harlem restaurant, and this intriguing cocktail combines rum, mango puree, and pickle juice.

Electric Co.
Where: Pearl & Ash
Price: $13
This Bowery restaurant is known for its wine, but it actually takes all alcohol quite seriously. The most recent addition to the cocktail menu is the Electric Co., comprised of Cocchi Aperitivo Americano (an Italian aperitif wine), Lillet Rosé, house-made rhubarb shrub, lemon juice, and orange bitters. Plus: a splash of Patrick Bottex Bugey-Cerdon wine and sliced strawberries.
Genius of Love
Where: Miss Lily's 7A
Price: $11
The East Village outpost of the Jamaican restaurant is at its best in the spring and summer, and this simple cocktail — Bacardi mango rum, fresh lemonade, and soda water — is a nice match for jerk chicken.
White Bottle-Aged Negroni
Where: Marta
Price: $14
Negronis are better suited for winter, which is why Marta has added a new bottle-aged version to its menu — with G'Vine Gin, Suze, and Bianco Montanaro.
Berry New York
Where: Vic's
Price: $13
Inspired by the season's first strawberries, Rolan Meyer has prepared a sweet cocktail with Brooklyn Republic vodka, muddled strawberries that are macerated in Catskills Provisions honey, Meyer-lemon simple syrup, rosemary, thyme, fresh lemon juice, and, best of all, a brown-sugar rim.
What's Up Doc?
Where: Café Clover
Price: $15
Café Clover is all about healthfulness — and that even extends to its cocktails. Muddled parsley, carrot juice, orange juice, pineapple juice, linie aquavit, simple syrup, and, fortunately, vodka make up this drink.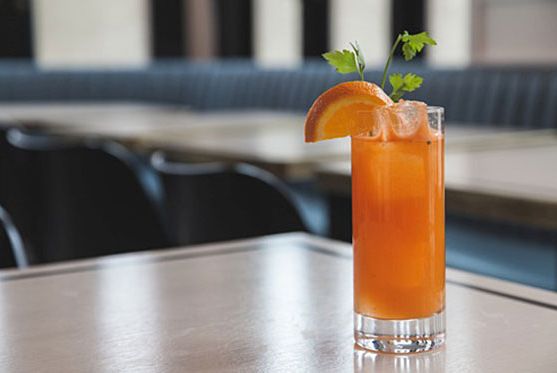 Fancy Pimm's Cup
Where: The Breslin Bar & Dining Room
Price: $14
On Monday, the Breslin began serving a drink of Pimm's No. 1, gin, fresh lemon, orange bitters, and ginger-brew soda — garnished with an orange slice, cucumber, and mint.
Floradora on Holiday
Where: Asia de Cuba
Price: $14
If you're curious about the reboot, the move is to swing by for a swanky cocktail — and this fresh, light option has Aviation gin, hibiscus, lime, and fresh-ginger soda.
Sangria
Where: Barbuto
Price: $14
Grub can think of no better way to spend a nice day than sitting at Barbuto, when the garage doors are up, and eating roast chicken and drinking fresh rosé-wine Sangria (with fresh fruit, Combier triple sec, and Aperol).
The Bronxville
Where: Bara
Price: $11
Bloomberg critic Tejal Rao just gave this under-the-radar restaurant — and its fried chicken — a glowing review. This drink, a riff on a gimlet, contains gin, orange juice, Amer Picon, dry vermouth, and yuzu.
Almira Gulch
Where: The Butterfly
Price: $13
Here's something fun: Almira Gulch is a reference to the green Wicked Witch, played by Margaret Hamilton. Plymouth gin, Gran Classico bitters, lemon, simple syrup, and rosemary oil round out the savory cocktail.
Spicy Halakahiki
Where: The Dutch
Price: $14
Hawaii's pineapple season is actually in April and May, so this combination of tequila, yellow chartreuse, lime juice, simple syrup, pineapple juice, and Bitterman's Burlesque bitters is considered a seasonal specialty at the Soho restaurant. Recommended pairing: at least three little-oyster sandwiches.
Storm's Brewin'
Where: Porchlight
Price: $14
Smith and Cross rum, Appleton VX rum, lemon juice, passion-fruit syrup, grenadine, allspice dram, and angostura get whipped, shaken, and strained into a hurricane glass, floated with a dash of Demerara 151 rum, and garnished with orange and a lemon wheel.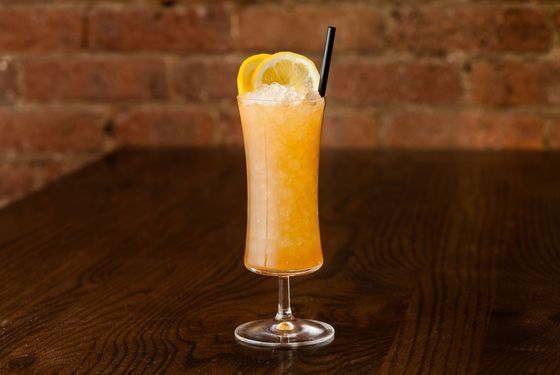 Beekeeper
Where: The NoMad
Price: $16
Is there a more reliable place to get a properly made cocktail? This new offering boasts Plymouth gin, elderflower liqueur, Islay scotch, honey, lemon, orange bitters, and an egg white.
Chāng Pāo
Where: Fung Tu
Price: $12
The Chāng Pāo cocktail, named after the golden robes worn by Buddhist monks, is appropriately gold in color. It features Cocchi Americano infused with osmanthus (a flowering plant native to China), dry sparkling wine, and Peychaud's bitters
Rhubarb Daiquiri
Where: Almanac
Price: $16
Ease into the warmer weather (it's bound to come for good, one of these days!) with a drink made of Flor de Cana white rum, rhubarb syrup, Maraschino liqueur, and acid phosphate.
Spring Fling
Where: The Upsider
Price: $14
This bar is a welcome addition to Midtown East, and the Spring Fling (which is proving to be a popular cocktail name) includes Crop cucumber vodka, cranberry, lemon, and fresh mint.