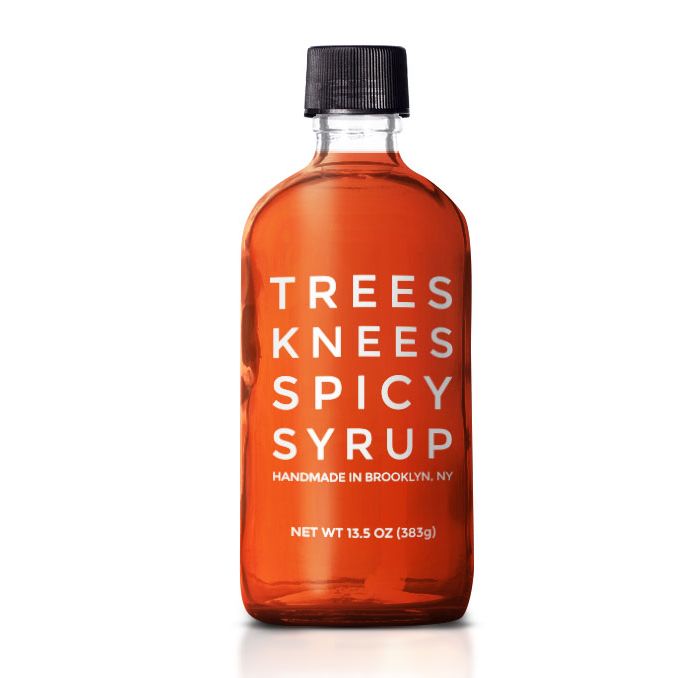 Chile-infused honey has emerged as a rising-star condiment: The sweet-heat combination is supremely versatile, the kind of thing you can easily drizzle over pizza, fried chicken, fresh ricotta, hot biscuits, Brussels sprouts, and plenty of other foods. Since Casey Elsass co-launched MixedMade's Bees Knees Spicy Honey about a year ago, he's watched his product blow up: "We put in $5,000 — just a little seed money to do a 30-day experiment — and we turned it into $170,000 in revenue in less than a year," he says. Naturally, he's now expanding his business, and launching what he hopes can become the next hot honey: Trees Knees Spicy Syrup — chile-infused maple syrup.
"They're entirely different, but it's a new flavor to incorporate into the ways you're already using the honey," Elsass says. "We encourage the sense of experimentation that we do with the honey. And the syrup is vegan." Elsass is from New Hampshire, so he's got plenty of opinions on maple syrup. In the end, he decided to choose Catskill Mountains Sugar House as his producer.
Here's how you can try it: Elsass says he's in talks with some larger grocery-store chains, and hopes to have the product in small mom-and-pop stores soon.
Meanwhile, Trees Knees Spicy Syrup will be available to buy online today for $15 per bottle, and Elsass plans to ship the first batch of orders out by Memorial Day, which means it could be just the thing to add to your summer-barbecue plans.