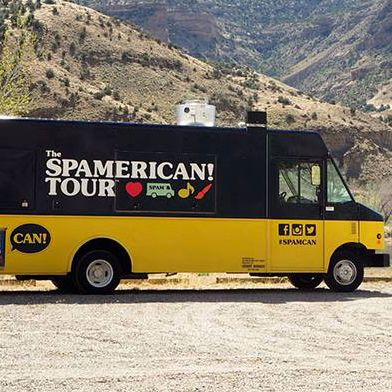 Who wants some canned meat?
Photo: Spam
Soon enough, a Spam food truck will lurk on America's street corners. The truck is part of Hormel's "Spamerican!" tour, and it'll travel to places like L.A. and Philly over the course of three months — pausing in 12 cities so that local chefs can serve up dishes indicative of Spam's "history, versatility, and cultural impact."
People of L.A. should gird themselves for something called the "Kimchi Spam Musubi Croissant" (musubi is a now-prolific Hawaiian corner-store snack made of rice, nori, and grilled Spam), and a thing called the "SPAMmy Tot" will invade San Francisco. Meanwhile, "Coconut Spam Spears," by Food Network's Sunny Anderson, come with pineapple chutney and will be the cross-country tour's "mainstay." As a curve ball, daring food-truck patrons can try ordering off-menu — going for the classic Spam-chiladas, perhaps, or a Nutty Spam Surprise.