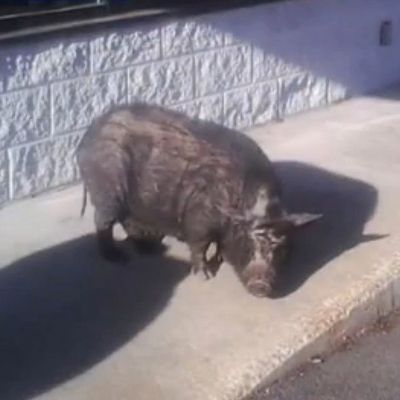 A porcine sit-in.
Photo: PA State Police
Yesterday, anyone set on eating a bacon Croissan'wich from a Burger King in Somerset County, Pennsylvania, had to first get past a large pig protester. Staffers showed up per usual at 5 a.m., only to discover the black pot-bellied animal had moseyed over from a nearby farm and was "just sitting behind our door." Naturally, people retreated inside, and it sounds like the pig saw this as an invitation to rule over the entire parking lot, leaving a warning trail of smudges on the door, and then blocking cars from entering the drive-through. Neighbors came by just to watch, and one brave customer who tried reasoning with the animal met its snout. "The pig just kind of walked up to her and bit her right on the foot," an employee explained.
The woman was fine, and police eventually reunited the animal with its owners, but not before one worker tried feeding it bacon. Thankfully, the manager intervened before the poor creature unwittingly ate its own kind.
[WTAE]