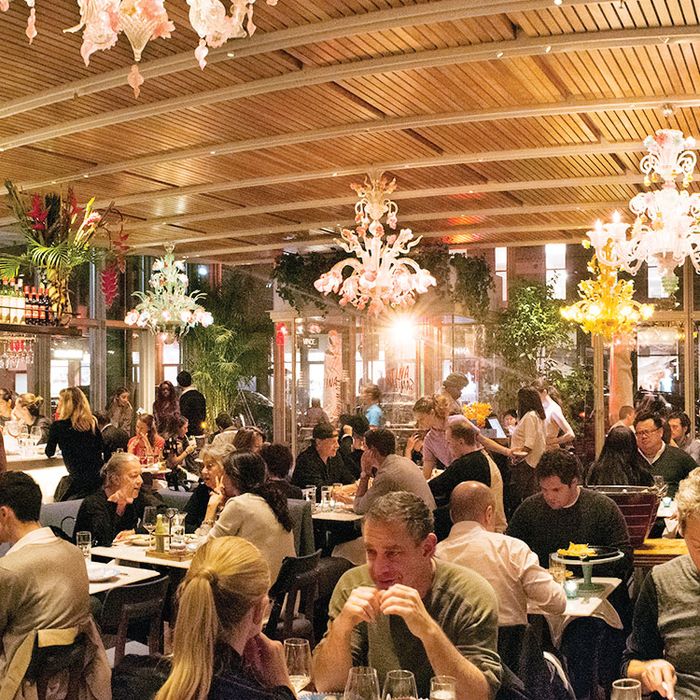 Santina
Photo: Tirzah Brott/New York Magazine
In today's brutally tight real-estate market, there seems to be a kind of reverse gold rush in effect. Instead of picking and choosing grand spaces to fit their fanciful culinary designs, ambitious, empire-building restaurateurs are cutting deals wherever they can find them and figuring out their dining concepts later. Danny Meyer, who's famously abandoning his original Union Square Cafe address because the new rent was too high, has lately been installing his non-burger ventures all over the map (on the borderlands of Battery Park City and far-west Chelsea, in the feng shui-challenged lobby of an obscure hotel, and in the new Whitney Museum). Andrew Carmellini recently chose to locate his fine vegetable-centric restaurant Little Park off the non-bucolic lobby of an obscure Tribeca hotel, and Jean-Georges Vongerichten will soon be opening his third department-store dining concept somewhere in the depths of ABC Carpet & Home.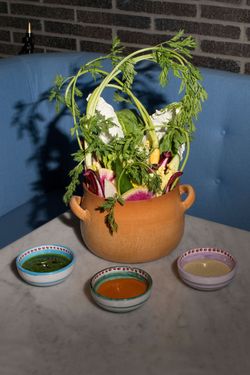 Compared with these expedient, somewhat random locations, the venue for Mario Carbone and Rich Torrisi's latest high-concept restaurant, Santina, has its quirky charms. The small, 27-table space sits directly under the southern tip of the High Line in a three-sided glass box designed by the renowned Italian architect Renzo Piano. The landlord happens to be Friends of the High Line, and it's kindly allowed Carbone & Co. to install around the room blooming, flower-shaped chandeliers made of coral-colored Murano glass. There are also potted palms and orange trees scattered about, and a marble bar that serves festive pastel-colored drinks. The wait staff are dressed in festive pastel colors, too, and on crowded evenings the room has a slightly madcap, off-kilter feel, as if it had been beamed down to the dark streets of Manhattan from the Amalfi Coast by way of Miami Beach.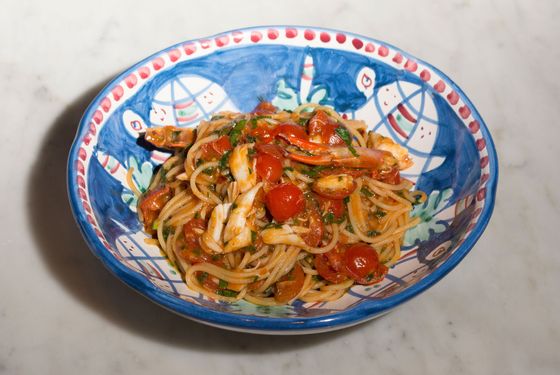 For devotees of Torrisi and Carbone's rapidly expanding Major Food Group (Santina is their sixth new restaurant in the past three years), this sense of playful lightness may come as a welcome relief. Unlike the scripted mortarboards at their flagship red-sauce establishment, Carbone, the menus here are printed on a single page and decorated on the back in cheerful seaside colors. Instead of giant servings of veal Parmesan and great hubcap-size salvers of grilled meat, a variety of refreshing Mediterranean-themed salads are available, mixed with things like sunchokes, fresh figs, and thatches of arugula. There are nine small-plates creations to choose from, the majority of the pastas feature seafood or vegetables, and the most conspicuous to-share item is the grandly named "giardinia crudité," which consists of plumes of healthy roughage served over ice in a rustic earthenware pot.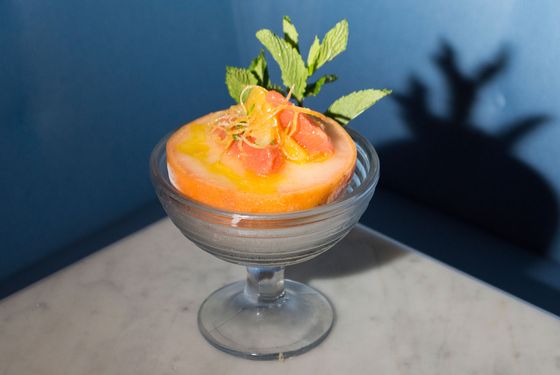 I dutifully ordered this decorative, Instagram-friendly creation on one of my first visits to Santina, although my guests and I soon pushed it aside to concentrate on a golden, thin, pizza-size cecina, or chickpea pancake, which is designed to be consumed in a similarly happy communal lather with a variety of toppings (avocado, spicy Calabrian tuna, a minty lamb tartare folded with green olives and anchovy cream). This adaptable dish is a meal in itself, especially when the blizzard of other small-plates options hits the table, like bowls of frizzled baby-artichoke leaves (tossed with crushed hazelnuts and tiny fried grapes), an exceptional house fritto misto (pay attention to the crunchy, tempura-quality greens intermingled with segments of shrimp, scallops, and calamari), and little rows of silvery Sicilian anchovies, which we ate on dense wedges of whole-grain toast.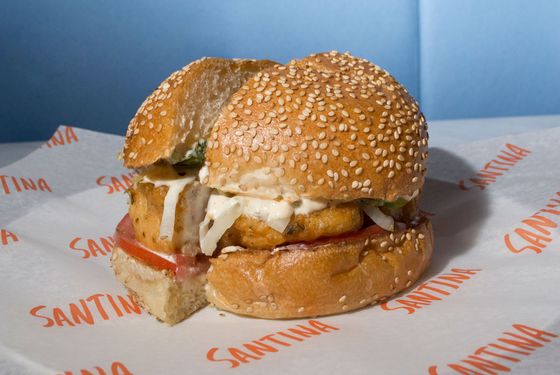 In accordance with the seaside theme at Santina, the most successful pastas tend to be mixed with plump mussels (chitarra Santina) or chunks of cracked blue crab, and you can complement them with a series of rice dishes (try the shrimp zingara) that are marginally lighter than your average risotto and just as compulsively edible. Some of the entrées my tasters and I sampled tended to veer into a kind of dreary, oversauced heaviness, in particular the wet, weirdly soft guajillo chicken, and a clunky version of sea bass Agrigento obscured in a dank mass of tomatoes and red peppers. The sturdy swordfish is a safer bet, although the most reliable entrée, in my experience, was the non-seafood grigliata del giorno, which consisted of nicely charred lamb chops one night, and of segments of tender, faintly gamy squab plated over a bed of oranges on another.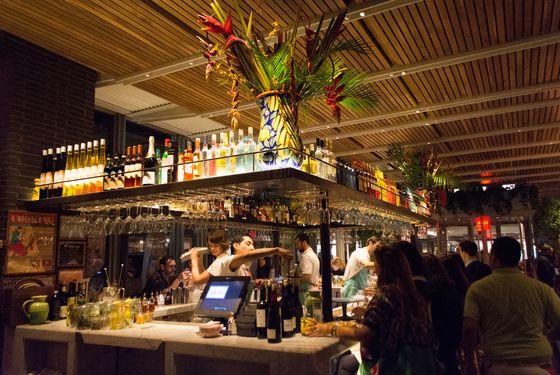 Santina serves a daily breakfast and a commendable lunch, and now that the clement weather is here, you can dine outside, under the shadow of the High Line, beneath the shade of orange-and-blue-striped parasols. The wine list is heavy on dry, sparkly whites, most of them culled from coastal vineyards around the Mediterranean (there are four selections from the Canary Islands and five from the Greek island of Santorini). The desserts (wedges of crumbly orange cake, lime meringue, a decorative grapefruit sorbet) trend toward the brighter, lighter side, too. If you feel like finishing your meal with the kind of classic, flavor-bomb flourish that Carbone and his partners are known for, however, call for tricolore cannoli, which are constructed with gouts of sweet, colorfully dyed sheep's-milk ricotta and a trio of cigar-shaped cannoli shells that are made of waffle batter and fried to order for an extra-deadly crunch.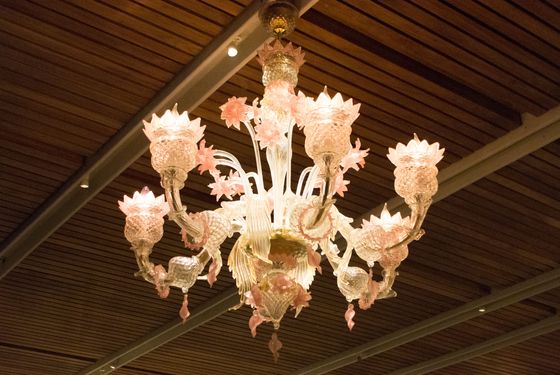 Santina
820 Washington St., at Gansevoort St.; 212-254-3000; santinanyc.com.
Hours: Breakfast Monday to Friday 7 to 10:30 a.m., lunch Monday to Friday 11:30 a.m. to 2:30 p.m., weekend brunch 10 a.m. to 3 p.m., dinner 5:30 p.m. to midnight.
Prices: Small plates, $9 to $17; entrées, $17 to $29.
Ideal Meal: Cecina with toppings, anchovies, fritto misto, shrimp zingara and/or blue-crab spaghetti, grilled dish of the day, grapefruit sorbet.
Note: Carbone is a sandwich savant, and his lunchtime-only fried-fish sandwich is worth a special trip.
Scratchpad: One star for the solid food and the genial service and another for the unusual, antic setting.
*This article appears in the May 4, 2015 issue of New York Magazine.