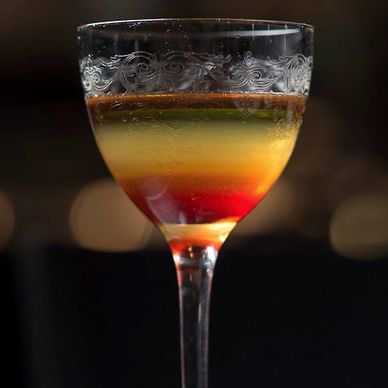 Among the many once-forgotten drink-making recipes and techniques that have reemerged during the great mixological boom of the last decade-plus, the pousse-café remains woefully underappreciated. It's easy to see why: Pousse-cafés are like the Fruit Stripes gum of the drink world. Generally speaking, they're just layered drinks, different ingredients — almost always brightly colored — floated on top of each other in a glass, often with wanton disregard for how the layers will actually taste together. Even though it has origins in Paris, its kitsch level ranks right up there with Jell-O salad.
"The pousse-café strikes me as the dorkiest drink ever," Eben Klemm says. "I've never ordered a pousse-café. I've never made one. I've never even seen one being made." And that is exactly why, when Klemm was assembling the cocktail menu at Rebelle on the Bowery, he made a point to develop one. "I always try and make sure I do something I've never done before to make it worth my while," Klemm says of his consulting gig on the this drink list. And the pousse-café "is the south pole of cocktails — not sure why we need to get there, but obviously we do."
Klemm's version looks as rainbow-y as you'd expect, but it involves ingredients of a higher pedigree than blue curaçcao or creme de violette. "I wanted to mock its flamboyance. I wanted ingredients that would be hard to make, and then put them into it." Klemm starts with an absinthe rinse, then, starting from the bottom, slowly layers in homemade grenadine, pamplemousse liqueur, Gran Classico bitter, homemade milk punch that's infused with green apple and celery ("the meat of the drink"), and chartreuse, topped with a final top layer of overproof rum. In drinking it, and moving from the top layer down, the effect like a drink that evolves from savory to sweet. "The layers are like courses of a meal," Klemm points out.
The other defining characteristic you notice as you drink it: This thing is strong as hell. It's more of a night-ender than a pre-meal aperitif. Meaning it's the thing to order after you polish off a bottle of, like, 2012 Domaine de la Tournelle trousseau from the restaurant's tome of a wine list. (And even then, you feel a little bad for actually ordering one, since it seems like it must be a pain in the ass for a bartender to assemble.) For his part, though, Klemm's happy with how it came out, though it sounds like he still isn't entirely sold on the idea of a full-on pousse-café revival: "I'm just glad it tastes better than I thought it was going to."