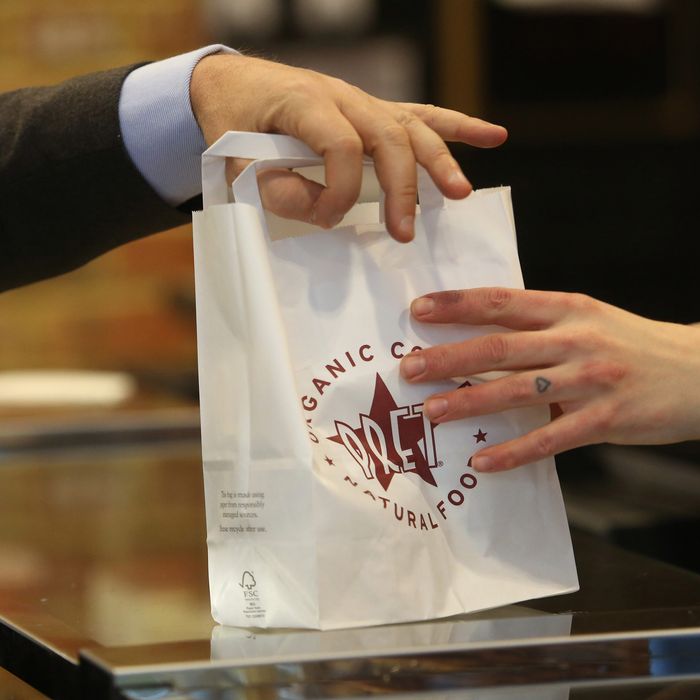 There is such a thing as free lunch.
Photo: Chris Ratcliffe/Bloomberg via Getty Images
Shamelessly flirting with your local Pret A Manger cashier might score you free food: Chain regulars have noticed — and sometimes complained about — random customers getting a complimentary cup of coffee on the sly, but it turns out that these freebies align with an official company policy. Employees have a freebie quota each week, and which customers receive handouts is solely "at their discretion." CEO Clive Schlee revealed all to the London Evening Standard:
We looked at loyalty cards but we didn't want to spend all that money building up some complicated Clubcard-style analysis. Instead the staff have to give away a certain number of hot drinks and food every week. They will decide "I like the person on the bicycle" or "I like the guy in that tie" or "I fancy that girl or that boy." It means 28 per cent of people have had something free. It's a nice, different way of doing it.
He didn't explicitly say if U.S. stores share this policy, too, but he did stress that doling out free stuff is part of the master plan to make Pret A Manger into fast food's next global phenomenon — a company that's "really successful in different continents."