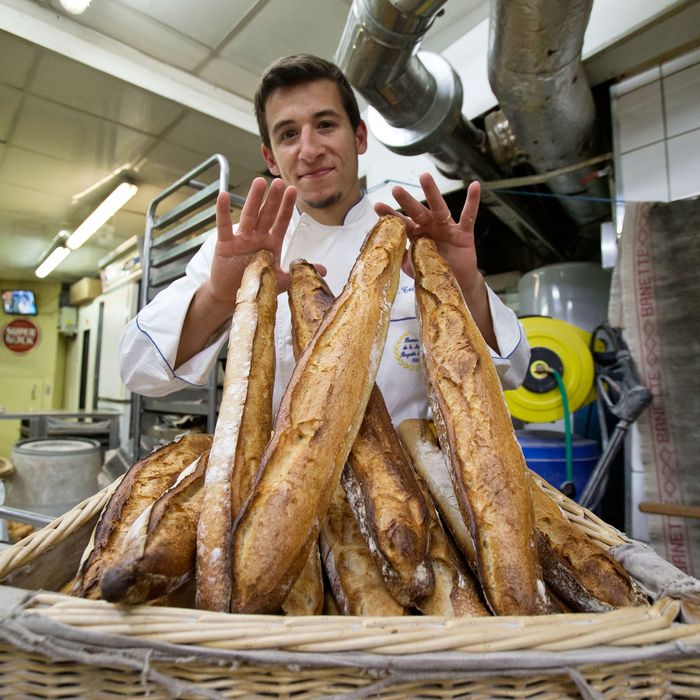 Last year's winner, Anthony Teixeira.
Photo: Michel Euler/AP/Corbis
As the 10 billion baguettes sold each year in France indicates, some cultural clichés stem from reality. The French truly do have bread at every meal; it's the most fundamental element of sitting down to eat, whether you're invited to someone's for dinner, or ordering lunch at a bistro. But it was still remarkable to see, on a recent gray spring afternoon in Paris, a line of boulangers snaking up the stairwell to the second floor of the Chambre Professionnelle des Artisans Boulangers-Pâtissiers, all carrying what they hoped would be awarded this year's Grand Prix de la Meilleure Baguette de Paris — otherwise known as the official "Best Baguette in Paris" competition.
Held annually since 1994, the competition is a badge of honor and warrants serious bragging rights. Moreover, the contest carries real consequences: The winner provides baguettes to the French president for the calendar year, gets a 4,000 Euro prize, and — perhaps most important — sees a lasting bump in business. The 2014 winner, Anthony Texeira, says he saw a big spike right after the announcement, and a 10 to 15 percent rise that has lasted since. 2013's baguette laureate, Ridha Khadher, who bought his boulangerie in 2006, says a 25 percent increase has stuck. Pride is also part of it. Khadher, who is Tunisian-born, says, "It makes me happy. It's a big deal. It's the French symbol."
Any boulanger in Paris can enter, but the specifications for what makes a competitive baguette are so rigid that many loaves are rejected outright. In order to be considered, a baguette must measure between 55 and 65 centimeters, and weight between 250 and 300 grams. The bread must also contain exactly 18 grams of salt per kilogram of flour used. Of the 231 baguettes submitted,138 were rejected outright for not meeting the necessary criteria (although the panel later reconsidered 20 and allowed them back into the competition after deciding the weight margin was very small and, besides, the baguettes in question looked really good).
Dominique Anract, president of the baker association that oversees the competition, says the strict regulations are necessary to quickly weed out bakers who can't hack it. "If we don't impose regulations, we're going to end up with baguettes a meter long," he says. "We have to have reasonable points of comparison." Moreover, he notes, bakers who can make their bread fall within the precise parameters demonstrate that they've truly "mastered" the baguette. "That's the mark of real professionals."
Including Anract, the jury is made up of 15 members: a select group of culinary experts (including the chef at the Palais de l'Élysée), and five non-professionals who applied to be on the jury via a lottery and were selected among 800 applicants. One of the lottery winners, Helene Raoul, entered the judging with confidence: "Bread is sensorial, so I know what I like and don't like." Later, Raoul would admit that she felt she learned more about the nuances of baguettes after having listened to the expert members discuss their thoughts on this year's competitors.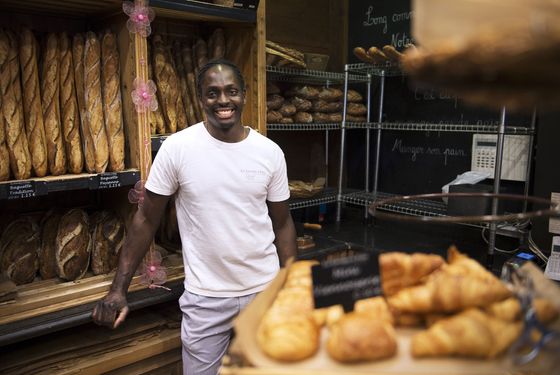 The jury is divided into three groups, with each group rating all the baguettes on a scale of 1 to 4 in five separate categories: done-ness of the crust, taste, scent, crumb, and appearance. Judges examine the baguettes in batches, each loaf halved horizontally before being methodically smelled and handled by the panel members. Small slices are taken off for everyone to taste, and the remains are carried off by women in latex gloves. Each group's highest-rated breads are short-listed and tasted by the other two jury groups. Eventually, the panel reveals the ten baguettes that score the highest among all the groups, and a single winner is declared. The whole process takes more than five hours.
This year's winner is Djibril Bodian, who was born in Senegal and grew up in a northeastern suburb of Paris. He's worked at Le Grenier à Pain in Montmartre since 2004. Extraordinarily enough, this is his second win, having been anointed the winner back in 2010. "The first time," Bodian told a reporter, "you think it's extraordinary, that you maybe got lucky. But this time, I really think work pays off — it's an immense joy."