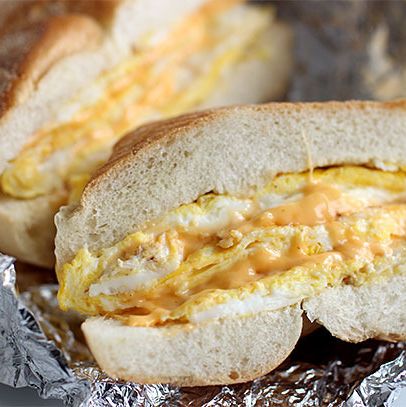 Critic to fancy sandwiches: Drop dead.
Photo: Melissa Hom
New York City will soon get its very own all-breakfast-sandwich shop, and the shop, to be called BEC, will use ingredients like lamb sausage and brioche buns to make its sandwiches. This has struck a chord with Pete Wells. Today the Times restaurant critic weighs in with his opinion of bacon-egg-and-cheese sandwiches, a.k.a. New York's all-time-best hangover remedy, and his opinion is that this is a sandwich that is best left un-fussed with:
The sandwich, being designed to satisfy practical needs rather than voluptuary desires, has to be ready fast. Its customers will not stand still for the unaccountably long waiting-around times that espresso drinkers now submit to. It is in the interest of speed, too, that the sandwich's purveyors are everywhere. […]

These ubiquitous sandwich makers are as anonymous as the sandwich itself. Neither craves recognition, let alone fame, a place on some 10-things-you-must-eat-before-you-die listicle. But really, nobody would think of writing such a list because the whole point of the classic, unreconstructed egg and something on a roll is that it should basically be the same everywhere. […]

The great virtue of the bacon, egg and cheese on a roll, or its variations, is in what it doesn't do. It doesn't divide New Yorkers by class, income or neighborhood. It doesn't seek publicity. It doesn't convey status or bragging rights. It just conveys nutrition and, if you need it, settles your nerves. It is a secret handshake that New Yorkers exchange, not with one another, but with the city.
That handshake, however, is probably still sort of greasy, since those little bodega napkins you get with the sandwiches are never really big enough to do their job effectively.
[NYT]