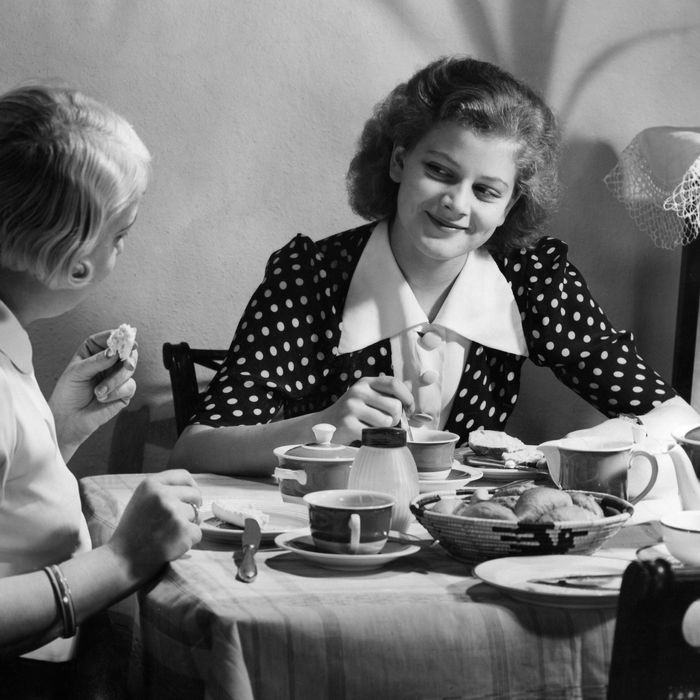 Fact: Moms love brunch.
Photo: Peter Weller/ullstein bild/Getty Images
If there were ever a time to set aside any conflicting feelings you have about brunch, it's Mother's Day (which is fast approaching — it's May 10 this year). Moms love brunch, and in New York, there are great restaurants offering both prix fixe specials and more casual à la carte options. Mother's Day is always a huge restaurant day, but if you act early — i.e., now — you have a lot of great options beyond typical eggs Benedict: You can sit down for an eight-course feast at Del Posto, stop by Boqueria for free Nutella-stuffed churros, or grab a patty melt at Telepan. Just remember that these reservations can be hard to come by, so act now and impress mom with your foresight. Here are Grub's top picks:
Aquavit
Cost: $75
This Michelin-starred restaurant is offering a three-course Swedish feast, with options like dry-cured gravlax with asparagus, brioche, and hollandaise; and potato dumplings with morels, lingonberries, and brown butter.
Miss Lily's
Cost: à la carte
It's business as usual at the Jamaican restaurant — which is great if you want to keep things casual — but mothers will be greeted with free mimosas and receive a complimentary bottle of jerk sauce at the end of the meal.
Cafe Boulud
Cost: $105, $45 for children under 12
Splurge on the three-course meal, which includes fanciful offerings like an omelette with asparagus and morels, pan-roasted monkfish, and a lemon tart with toasted meringue.
DBGB Kitchen & Bar
Cost: $27
And at Daniel Boulud's downtown spot, the three-course menu features an omelette Basquaise with roasted peppers, goat cheese, and home fries, as well as a rhubarb sundae. Plus: A cocktail named "Momma Knows Best" has gin, raspberry puree, and Champagne.
A Voce Columbus
Cost: $60, $38 for children under 10
The three-course menu at this Upper West Side restaurant include dishes like burratina cheese with fava beans and mint, poached eggs with kale puree and parmigiano fonduta, and, for dessert, chocolate mousse with honey lavender gelato.
Hearth
Cost: à la carte
This East Village restaurant has extended its brunch hours for the holiday, from 11 a.m. to 4 p.m. It will serve dishes like blueberry-buttermilk pancakes, seasonal frittatas, and a bloody Mary made with grass-fed beef broth.
Sylvia's
Cost: $17
The best way to celebrate your mother is with soul food, and this Harlem standby is offering a two course prix fixe menu with options like country-fried fish and salmon croquettes.
Benoit
Cost: $50, $25 per child
You'll find an array of French classics on the three-course menu — escargots, pate en croute, steak frites — but the real treat here is the complimentary "sweet atelier," which allows children to design their very own eclairs.
Boqueria
Cost: à la carte
Take your mom out for tapas here, and the chef will treat her with complimentary Nutella-stuffed churros.
White Street
Cost: à la carte, $10-$14, prix fixe, $59
This Tribeca restaurant will offer a three-course prix fixe menu for adults and à la carte options for kids, so you can treat the whole family to a ramp flatbread, or Vermont baby lamb with spring peas, garlic, and mint.
Colicchio & Sons
Cost: $75
Here, you'll find a three-course menu that includes dishes like pork loin with rhubarb and wild bamboo shoots, and roasted Amish chicken alongside green garbanzo beans, ramps, and green garlic.
Lincoln Ristorante
Cost: $75 for three courses, $85 for four
The brunch menu will be served all day, and options include branzino with clams, mussels, and fregola; and braised lamb with olives, capers, and tomatoes.
Del Posto
Cost: $126 for the five-course menu, $179 for eight courses
This will be a true feast: Mark Ladner and Brooks Headley are preparing special dishes just for Mother's Day.
The Gander
Cost: à la carte, $16-$21
For a more casual brunch, enjoy an à la carte menu of grilled-prawn salad with warm fava beans and piquillo peppers, and fresh fusilli with ramp pesto and morels.
Louro
Cost: $35
The restaurant will offer a two-course brunch menu filled with items like poached duck eggs with confit hash and truffle pudding, and each mother will receive a complimentary pink lemon cake to take home.
Il Buco Alimentari
Cost: $45
How about some housemade ricotta with a hazelnut crumble, fried artichokes, porchetta and eggs, or panna cotta? The prix fixe meal includes plenty of choices.
Telepan
Cost: $55
Another good option uptown: Dishes like sheep's-milk-ricotta blintzes, arctic char with candy-cane beets, and a patty melt are all on the three-course menu.