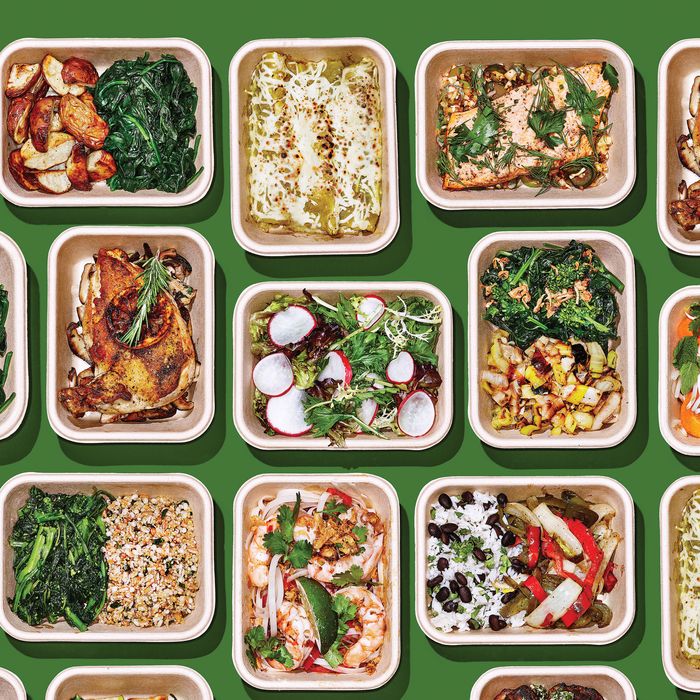 Photo: Bobby Doherty/New York Magazine
In the beginning, there was the telephone. You picked it up, you dialed Tang Tang, and your sesame noodles arrived almost before you hung up. Today's food-delivery universe is a bit more complicated, populated by tech start-ups racing to corner a venture-capital-funded emerging market. The latest of these is Maple, a new service with a commissary kitchen in Brooklyn and the first of a future network of delivery-kitchen hubs serving Manhattan below Chambers Street as of today. It has everything you'd expect from a newfangled 21st-century delivery app: a mouthwatering website, $22 million in Series A-round funding, a "lightning-fast" algorithm. But it also has David Chang, recruited by the Maple team as chief culinary officer and source of the start-up's culinary cred. Maple is not Momofuku's delivery arm, however — "Ramen doesn't travel well," says Chang. (Nor do burritos, incidentally, Ssäm-Bar-style or otherwise, according to the Momofuku czar.) Instead, he recruited Soa Davies, a six-year veteran of Le Bernardin, to run Maple's kitchen.
But Chang's involvement is no mere browser-window dressing: He feels strongly that the future of food will be outside the traditional restaurant setting, in hospitals, schools, offices, and, yes, digital delivery services that offer good, healthy meals for $12 at lunch and $15 at dinner — tip, tax, and delivery included. (Maple is starting small, with three rotating options for each.) "Entire cultures outside America base their food on deliverable lunches," he says. "Japan, Korea, Taiwan, India. This is relatively new to us."
Mouse over or tap the image to read more about Maple's dishes.
So while Maple's tech crew designed software that plots routes and bundles orders to best ensure "oven-to-doorstep" times of less than 30 minutes, the cooks endeavored to solve delivery's most puzzling conundrums: which foods travel well (Moroccan chicken, baked arctic char) and which don't (eggplant Parmesan, anything fried); how to plate and pack meals to survive high-speed bicycle delivery; which salad greens best withstand being vigorously shaken for six minutes straight. Maple arrives in an increasingly crowded local field. GrubHub, Caviar, and Postmates deliver food from existing restaurants; San Francisco-based Munchery, which launched in New York in March, cooks its own meals but delivers them cold for reheating.
Maple hopes to distinguish itself with chef power (Chang drafted buddies like Del Posto's Mark Ladner and Brooks Headley to sit on the culinary board, suggesting that Maple might become a conduit for their sideline projects of gluten-free pasta and veggie burgers), but also with the goal of scaling up and incentivizing producers with money up front. "We want to have an effect on how farmers and growers raise animals and grow produce," says Davies. For now, though, Maple's focus is on the laboriously tested (and tasted) contents of its 4 3/4-by-6 1/4-inch sugarcane-bagasse containers. "We're trying to make food that's good in that box," says Chang. "That's our universe."
Photo: Bobby Doherty/New York Magazine
*This article appears in the May 4, 2015 issue of New York Magazine.