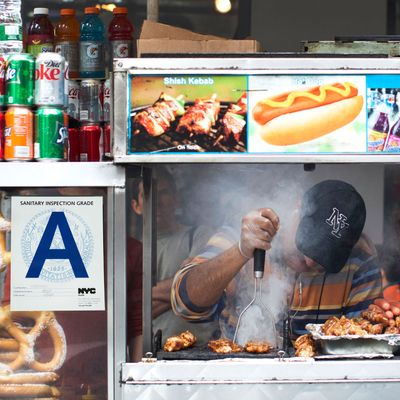 How will hot dogs fare?
Photo: Andrew Burton/Getty Images
Two legislators in Albany are hoping to unleash the Health Department's inspectors on New York's street vendors. A new bill, sponsored by Senator Jose Peralta from Queens and Assemblyman Marcos Crespo from the Bronx, proposes to create a nine-member commission tasked specifically with overseeing food trucks and snack carts. The main goal, they say, is holding sloppy vendors accountable so that hungry pedestrians can eat hot dogs and gryos in peace.
The proposal actually appears to have the support of vendors. "Our members want to be seen as legitimate," Elise Goldin of the Street Vendor Project told the Daily News, "and if a letter grade helps bring that legitimacy, our members would be supportive." And a representative for the New York State Restaurant Association said, "Any regulations that brick-and-mortar businesses have to adhere to should be true of any other food establishment, including food carts."
The bill's backers expect that this could also be used to curb the city's thriving black-market for vendor permits — a major problem.
[NYDN]