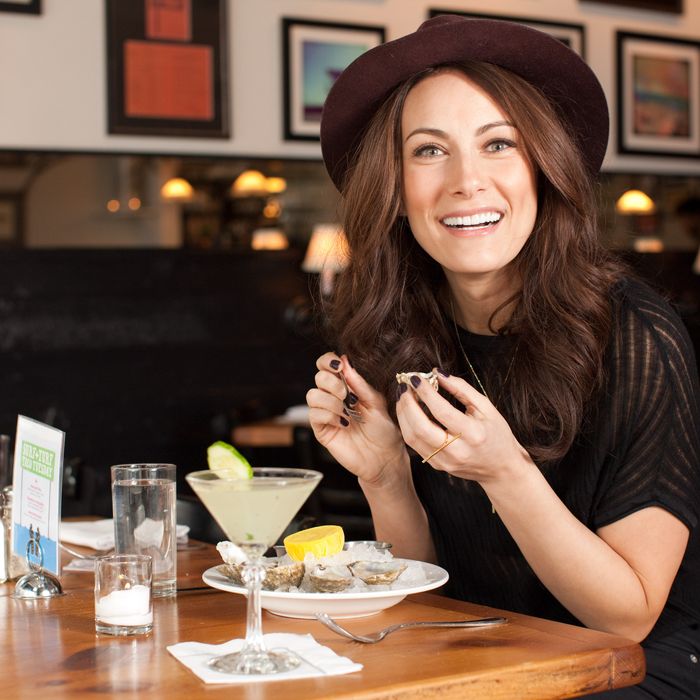 Mermaid Inn is her "favorite thing in the world."
Photo: Melissa Hom
For a large part of her life, Tony award–winner Laura Benanti maintained a vegan diet. "Growing up, my mom was essentially making four different meals for people," she recalls. "My sister would only eat chicken and cheese, I would only eat tofu and vegetables — it was horrible." Fortunately, the Nashville actress — who is starring alongside Derek Hough and the Rockettes in the first New York Spring Spectacular at Radio City — now has more relaxed eating habits. "I used to put so much emphasis on my diet that it really took a lot of joy out of my life," she says. "But I decided that I would rather be ten pounds heavier and a million times happier than really skinny and miserable." (Amen to that.) Read all about it in this week's Grub Street Diet:
Friday, March 27
Friday morning was the day after opening night of the Spring Spectacular, so I slept late — until about 10:30. My boyfriend, Patrick, brought me an almond-milk chai latte (not too sweet) and a slice of whole-wheat banana bread from Joe Coffee, a place I've been going to for years. I even made a video with the shop to promote my new show, because the premise is that I'm a terrible barista. I usually try not to start the morning with bread, but it was so delicious.
Around lunchtime, I opened the fridge and claimed some leftover chicken fried rice from my favorite local Thai place, Opai Thai. (Patrick had to fend for himself.) I actually like fried rice when it's a couple of days leftover. It gets even greasier, somehow.
Before our performance that evening, I had a Beauty Tonic from Local Thyme, near Radio City. They specialize in organic food and juices and everything's, like, grass-fed. The Beauty Tonic had nettle, roasted dandelion root, almond milk, pearl powder, butterscotch, vanilla, coconut oil, and raw honey, and was what I needed before heading to the theater and jumping on the elliptical in the fitness center before getting onstage.
After the show, I just went home. I would love to say that I don't usually have a night snack, but I absolutely do! That night, I ate the chocolates that someone had given me in honor of opening night.
Saturday, March 28
I try to save my gluten for important things, like pizza. So, for breakfast, I had a piece of gluten-free toast and an apple. This particular gluten-free bread, Udi's, is amazing. It tastes like regular bread!
You might notice that I'm not really a cook. To those people who say "cooking relaxes me," I say, "You've heard of not cooking, right? Not cooking is way more relaxing."
After breakfast, I walked through Central Park — where it was snowing! — to our matinee performance. When I got there, I was starving. I met up with my best friend Sarah Saltzberg at Jado Sushi, where I had miso soup and a shrimp tempura roll, with an incredible mayonnaise-plum sauce.
Sunday, March 29
For breakfast, I had a green smoothie, with kale, rainbow chard, a green apple, a banana, celery, cucumber, lemon, and romaine. I throw all the ingredients into my Vitamix, and large-batch it. I don't drink coffee at all. It makes me spin off the face of the Earth. I have enough energy, and I don't need any more.
After a matinee performance, Patrick and I went to Mermaid Inn, our favorite restaurant on the Upper West Side. To me, the Mermaid Inn feels like a Brooklyn restaurant that's plopped down in the middle of uptown. They have these garage doors, and in the summer time, they open them up and you can sit outside and have all-you-can-eat crabs in a bucket, which is my favorite thing in the world.
We shared oysters and the calamari salad, and I got their fish tacos while Patrick had the seared tuna special. I also had a beer — a milk-stout. I love beer. I like the fact that it doesn't have as much alcohol in it, because I'm a bit of a lightweight when it comes to drinking. So for me, beer is nice. It's funny because dark beers have the lowest alcohol content, and the most minerals of any beer. It's good for you — at least that's what I tell myself when I'm drinking it.
Monday, March 30
Monday was a dark day for the Spring Spectacular, but I was performing in the "Miscast" concert that night, a benefit for the MCC Theater. I made myself two soft-boiled eggs on gluten-free toast and went to rehearsal.
The show is comprised of performers singing songs that you would never hear them get to sing otherwise. Women sing songs designed for men, or young people sing songs designed for old people — hence the name. I sang "Agony" from Into the Woods and "Sixteen Going on Seventeen" from The Sound of Music. I made Liesl a modern-day 16-year-old, on my phone and chewing gum. It was fun.
After rehearsal, I went for lunch with some friends I hadn't seen in a while. We went to the Tick Tock Diner on 34th Street, and I had a cup of chicken noodle soup and some rye toast. (As I'm telling you this, my boyfriend just whispered "boring.") I was starting to feel like I was coming down with something.
I went home and got myself ready for the concert. The benefit was at the Hammerstein Ballroom, and for dinner, I had cold filet mignon in my dressing room and a bag of pita chips. Then I came home, crawled into bed, and fell asleep to the soothing sounds of HGTV.
Tuesday, March 31
On Tuesday, I woke up not feeling well, so I didn't eat breakfast. But I got a massage! After 90 minutes, though, I felt even sicker, even though my masseuse is a miracle worker. I had the Volcano from Juice Press on 82nd Street, which they advertise as "one of our more powerful cold fighters." It's a natural sports-electrolyte drink — like a healthy version of a Gatorade.
My boyfriend and I were actually talking about going back to the Mermaid Inn on Tuesday night, but I wasn't up to it, so we ordered pho from Saiguette in Harlem. It's the most unbelievable pho that I've had, other than in San Francisco. What I love about Saiguette's delivery is that when the food gets to you, it's still boiling hot. I don't know how they do it. And then you can choose however spicy you want it to be. I asked for extra spicy! I wanted to kick this cold in the pants.
Wednesday, April 1
On Wednesday, I went to tape the Rachael Ray Show with my Spring Spectacular co-star Derek Hough. Honestly, I am not a dancer. I am a singer and an actress. Dancing with the Rockettes is pretty intimidating, but it's also amazing. And, fortunately, what Derek does for a living is take people who don't dance and drag them around, and then they win things. So that's the good news for me — he's good at dragging me around.
In the green room at Rachael Ray, we were given raspberry seltzers, a beautiful mélange of berries, and delicious servings of eggs Benedict in a tiny skillets with bacon on the side. It was unbelievable. I ate it all. And the show went great! I had a lot of guests there, including Jimmy from Grimaldi's, who I'm buddies with. (In one of my "Workin' It" promo videos, I try to make pizza at Grimaldi's.) I would consider myself a pizza connoisseur. I'm a little disappointed in myself that I didn't have any pizza this week. Believe me, I'm going to remedy that as soon as possible.