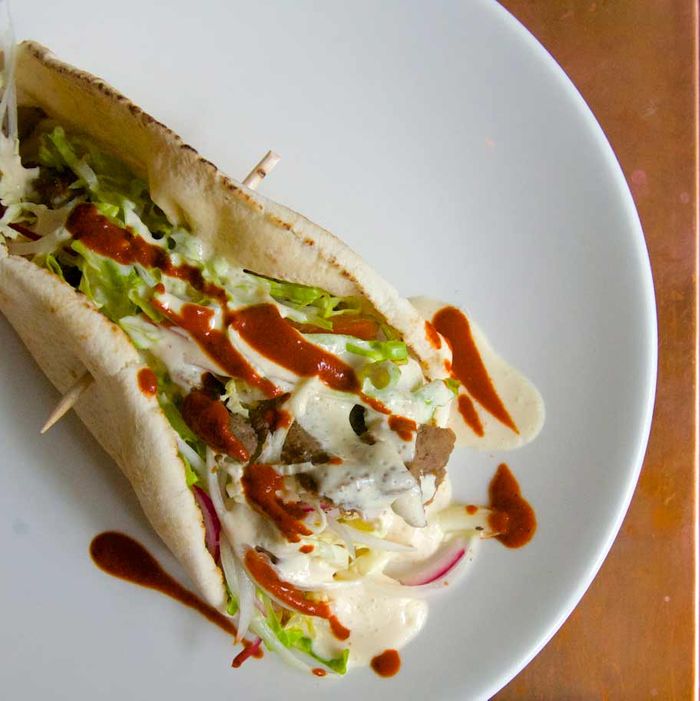 A Canadian riff on the classic döner kebab.
Photo: Courtesy of King Bee
If not for King Bee, New Yorkers might still be oblivious to the rich, hearty charms of Acadian cuisine, that somewhat obscure result of French immigration to the region of Eastern Canada now known as the Maritime provinces, and from there to Louisiana, where it evolved into Cajun. This Sunday, the East Village restaurant launches brunch with a few Acadian-inspired specialties, including ployes (small buckwheat pancakes) with sorghum butter, a crawfish Benny with fennel-tarragon bearnaise, and duck-and-farro boudin.
But the dish we're most intrigued by is the Halifax donair, a riff on the Turkish döner kebab shaved-meat sandwich that has become, over time, something of a craze in Nova Scotia, where it's touted as the perfect antidote to a night of excessive drinking. At King Bee, chef Jeremie Tomczak seasons a mixture of ground pork and beef, pulses it in the Robot Coupe, cooks it low and slow, lets it cool thoroughly, then slices it and pan-sears it to order. He tops it with onion, tomato, and shredded lettuce, but the defining characteristic, and what sets this donair apart from its Istanbul cousin, is the white sauce, a slightly sweet combo of evaporated milk, garlic, sugar, and vinegar.
At King Bee's brunch, which will be served Sundays from 11 a.m. to 3 p.m., you can top your donair with an optional fried egg. Here's a look at the menu and some of the food.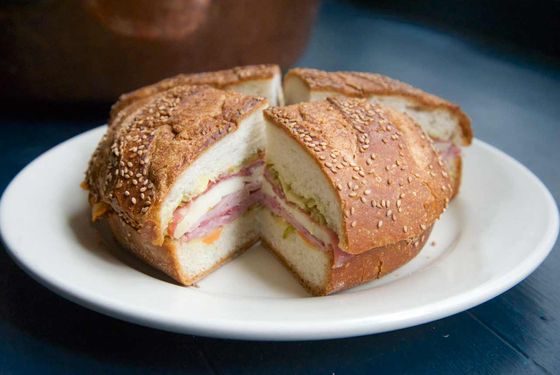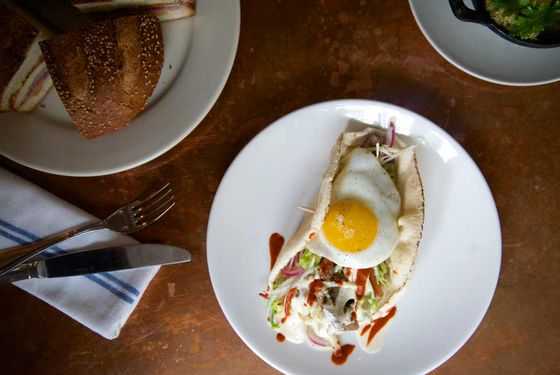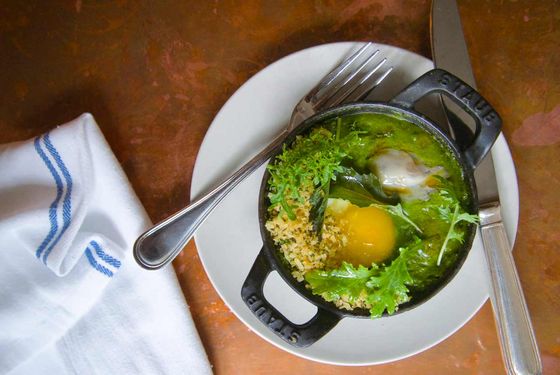 FOR THE TABLE
Daily Selection of East Coast Oysters, $3 each
Ployes, Small Buckwheat Pancakes
-Sorghum Butter, $3
-Maple Cream, Smoked Trout Roe, $6
-Smoked Lox, Pickled Vegetables, Fresh Cheese, $6
Pork Cracklings with Peanut, Cane Caramel, Malt Vinegar Powder, $8
Bruléed Bread Pudding with Foie Gras, Rhubarb, Cheddar, Maple Syrup, $10
EGGS
Green Eggs with Baked Eggs in Gumbo Z'Herbes, $12, +Ham, $3, +Oyster, $3
Crawfish Benny with Fennel Tarragon Bearnaise, English Muffin, $14
Easter Sunday with Soft Poached Egg, Rabbit, and Anson Mills Grits, $14
Duck and Farro Boudin with Fried Egg and Chicories, $12
Thin Pork Chops with Potato Pancakes, Egg, Salted Herb Syrup, $16
BUCKWHEAT CREPE GALETTES, $14
Large savory crepes filled with your choice of:
-Mushroom Maitake, Trumpet Royal, Shiitake, Rucola, Shallot Confit, Egg
-Ham and Cheese Rice's Country Ham, Reading Raclette, Bloomsdale Spinach
-Sausage Andouille and Potato Crumble, Egg
SALADS AND SANDWICHES
Farro Salad with Fresh Peas, Garlic Scapes, Radish, $12
Louisiana Crawfish Roll with Chips, $18
Muffaletta with Cured Meats, Aged Provolone, $14 whole, $8 half
Halifax Donair with Spiced Pork + Beef, Tomatoes, Onions with Donair Sauce, Pita, $14
KB Burger with Raclette, Tomato Confit, Pickles, Potato Roll, Fries, $14
SIDES
Anson Mills Grits, $7
Duck & Farro Boudin, $7
Granola + Yogurt + Sorghum, $6
Two Eggs any style, $6
Market Greens $5 + two eggs, $5
French Fries, $6
BEVERAGES
Coffee by George Howell
-Brewed
-Espresso
-Café au Lait bowl
Juices
-Fresh Squeezed Orange
-Green with Lemon + Ginger
Catskill Michelada with Sicilian Tomato Juice, Barrier Kolsch
Kir Upstate with Cider, Rhubarb
Needle Park with Bugey, Orange, Thyme, Soy
*A version of this article appears in the April 20, 2015 issue of New York Magazine.