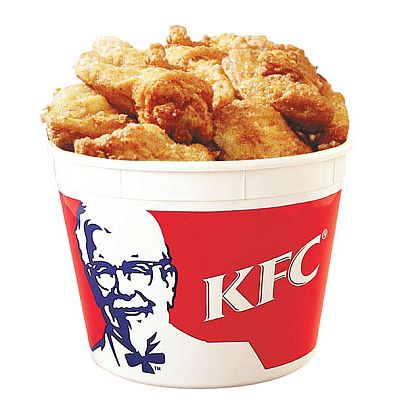 Stick to the basics.
Photo: Courtesy of KFC
Raymond Allen, who bestowed upon the Brits KFC's secret fried-chicken recipe (a perk of being a close personal friend of Harland "the Colonel" Sanders), now regrets the horrors he unleashed on his fellow countrymen. He opened so many U.K. locations of KFC in the '60s and '70s that the state of Kentucky made him a colonel, too, but even he couldn't stop the company from expanding beyond plain fried chicken.
Scandalized, Grub's sure, by the Double Down and its insane offspring (the Double Down hot dog and the Zinger Double Down King), the 87-year-old insists that simple classic recipe — which he still has a handwritten copy of — has been "ruined." He said:
We have got one where I now live, but I would not go in there. I don't use it and I think it is dreadful. The company has ruined the product.

Instead of staying with one good thing that was sellable, they have tried to compete with the other fast food units. They should have just stuck with the chicken.
Further, Allen's wife added that they actually tried going about a year ago, but the experience was downright traumatizing: "We had the traditional original chicken, but there were so many different products it was difficult to know what to order. I don't think we will go back."