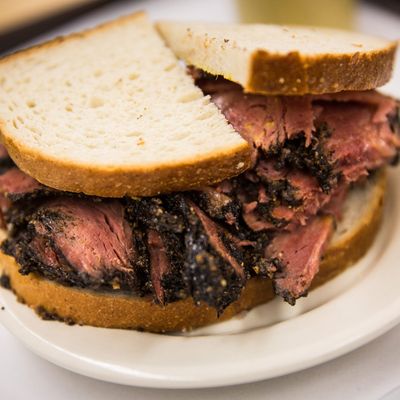 Last sandwich standing.
Photo: Andrew Burton/Getty Images
Further proof that condominiums (and banks, and juice bars, and Duane Reades) are killing old New York: Restaurants near the corner of East Houston and Orchard streets have been closing one by one to make way for a massive new luxury building — complete with ten stories, 94,923 square feet of residential area, and another 13,463 square feet for commercial use. Following in the footsteps of Bereket and Lobster Joint, Empanada Mama has now shut down business. Fortunately, the 24/7 South American concept will relocate to 95 Allen Street, where it'll have much more space. And rest assured that the future of Katz's Delicatessen is secure: Owner Jake Dell sold the iconic deli's air rights to make way for the condominium, but he maintained that the deli won't be pushed out by any aggressive developer, ever.