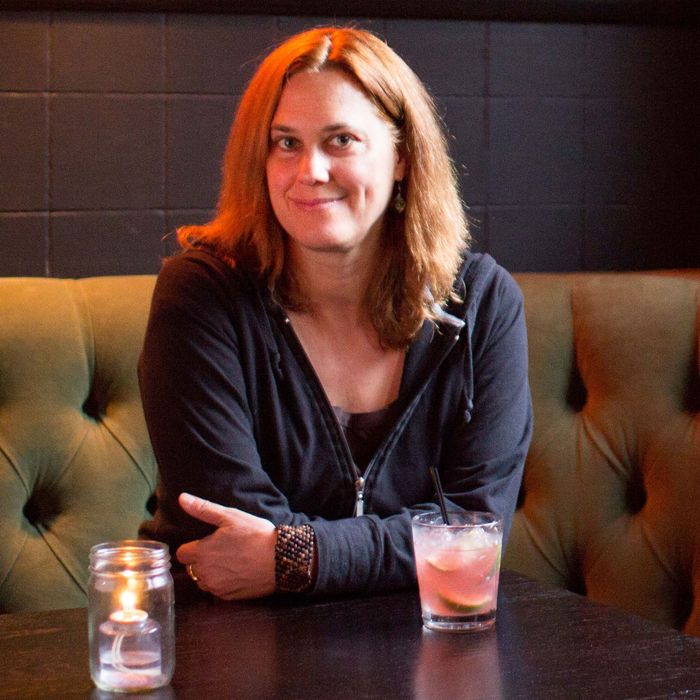 "We came out of the terminal at LAX like hibernating bears …"
Photo: Rodolfo Carlos
Kate Christensen has authored six novels, a food-focused memoir (Blue Plate Special: An Autobiography of My Appetites), and written for publications like The New York Times Book Review, Vogue, and Food & Wine. Her latest project — a nonfiction book to be released in September called How to Cook a Moose — focuses on living and eating in Maine, where Christensen resides. But this week, she left New England to visit Los Angeles, and took advantage of the city's fresh fruits and an abundance of "hippie food." Read all about in this week's Grub Street Diet:
Thursday, April 9
On Wednesday, my boyfriend Brendan and I left icy, wintry Maine behind after the most grueling winter either of us had ever experienced. We came out of the terminal at LAX like hibernating bears emerging into sudden warmth.
We spent the night in West Hollywood, crashing at Brendan's father's place. The next morning, we awoke early to a scintillatingly sunny day and headed out for coffee, blinking in the fierce sunlight like voles. We each got a grande with half and half and honey from the Starbucks on Robertson. When breakfast time rolled around, at 10:30 or so, we went to Le Pain Quotidien on Melrose and sat outside! In the sun!
I've never felt entirely comfortable in Los Angeles. I don't own a pair of sunglasses. I basically dress like a 10-year-old boy, and my grooming routine is about at that level, too. I subscribe to the theory that the way to acclimate to a strange place is to eat locally, which to me, in Los Angeles, means aggressively healthy food that doesn't apologize for itself in any way. Also, after this long winter of roasted root vegetables, slow-cooked stews, and dense soups, I was more than ready for some warm-weather food. So I ordered the quinoa tabbouleh — in other words, a mound of hippie food. It came with chickpeas, radishes, avocado, and arugula. I gobbled it all up with another cup of coffee and started to feel a little more at home here. I also realized that I love quinoa tabbouleh.
At two, Brendan's father took us to lunch at Café Angelino on 3rd Street, his go-to Italian home-cooking place. He ordered a glass of white wine, something "Greco," so I ordered one, too; it was delicious, dry and light. My insalata misto was humdrum, but then came a shallow bowl of tender calamari in a rich, spicy tomato sauce, an appetizer portion, but large enough to be a main course. It tasted like a nonna was back there cooking.
Then we drove to Silver Lake and settled into my friend Meredith Maran's casita (the Casita Artista), the latest two in a line of writers to inhabit this hidden little Shangri-La of a retreat. Right away, for the novelty of it as much as anything, I ate a perfectly ripe orange from the tree by the deck, then picked and ate a few strawberries from the front garden.
We spent the afternoon writing outside, listening to the little fountain and the birds, tucked away in a bower of green. It felt as if we were somewhere in Tuscany, not Los Angeles, and certainly not in a city.
At some point, we hiked down to the local grocery store, Yummy.com (that's its real name), on Sunset, and bought some supplies, then brought them home and had supper on the deck: a bottle of cold rosé with a spread of kalamata olives, marinated feta, a cucumber-and-red-pepper salad dressed with sea salt, black pepper, Greek yogurt, and fresh mint, plus a handful of Mary's Gone Crackers flaxseed crackers. Then we called it a night: All this happiness and pleasure had worn us out.
Friday, April 10
We woke up Friday morning bright and early and drank coffee we'd made in the stovetop percolator in Casita Artista's kitchen, which is like a well-appointed ship's galley. For breakfast on the deck, I had sliced cucumber, feta, and mint on a piece of Udi's Ancient Grains toast, plus an orange off the tree (I had become addicted) and another cup of coffee.
We decided not to work that day. It felt like vacation, suddenly. After a short hike around the Silver Lake reservoir, lo and behold, we were hungry again. At noon, we found ourselves at a little place called Forage on Sunset. I ordered the roasted salmon bowl, which came with brown basmati rice, radishes, an omelette cut into thin strips, scallions, and garlic kale. I doused it in Sriracha and snarfed it. With it, I drank strawberry-cucumber agua fresca, which I had intended to make fun of because it's so trendy, but it turns out it's trendy for a reason.
That afternoon, we took two more hikes, in Runyon Canyon and Laurel Canyon, to work up an appetite for dinner. Starving at four after a total of seven mountainous miles in one day, we ate blue chips with super-hot habanero salsa on the deck with a well-deserved post-hike glass of rosé. Then I ate some more perfectly ripe, warm strawberries from the front garden. I never got over the thrill. (It was a very long and grueling winter in northeastern New England this year, let me just say.)
At 7:30, we took Meredith and her friend Mary to dinner at Saint Martha, a low-key but very swanky restaurant in a strip mall in Koreatown. Over the course of almost four hours, we drank a bottle of Italian red called Dolcetto di Cogliani and feasted on an elaborate, beautifully conceived series of dishes. The bread was served with "bone marrow butter," which is as rich as it sounds. My first course was what I would call grilled octopus on sushi rice in a schmear of squid-ink sauce, described on the menu as "octopus with koshihikari rice, sauce nero, lardo and espelette," then three raw oysters that arrived on a bed of chilled stones, and finally, three plump, meaty, tender scallops "steamed in smoked kombu with braised kohlrabi, enoki and brown butter dashi." For dessert, I had a glass of Sauternes.
Saturday, April 11
The next morning, we had our by-now-habitual coffee and orange in the by-now-habitual sun on the deck. At 9:30, we were finally hungry, so I made us each a fried egg with cilantro and Tapatio hot sauce on top of "creamy beans," a basic and fantastic recipe I got from Molly Wizenberg's food blog, Orangette: a can of black beans simmered with butter and hot sauce for an hour. For dessert, I had five strawberries and a second cup of coffee.
We worked all morning. I found myself writing like a demon here; the place is imbued with writerly hoodoo or something. It's magical, anyway. After a long hike in Griffith Park, we were hungry yet again. At 2:45, we went to Flore, a vegan place on Sunset. We'd started eating like natives. Without batting an eye, I ordered jicama tacos, all-raw and wrapped in lettuce leaves, and a very rich, hearty beet salad with grapes and walnuts and balsamic dressing.
In the late afternoon, back on the casita deck, after working for another hour or so, we both ate a piece of toast with butter and incredibly delicious marmalade, made by Meredith from her own oranges, with a cup of Earl Grey with half and half and sugar.
We knocked off work at 6:30 and walked down to Cliff's Edge on Edgecliff and Sunset. We sat at the cozy bar, which we preferred to the more-glamorous garden, mostly because it was fun to watch the bartenders concoct the elaborate house cocktails, one of which, the Smoking Jacket, involved something called "rosemary smoke." We each drank a La Chinita cocktail: Benesin mezcal, kafir-lemongrass-infused tequila, lime, jasmine cordial, Fruit-lab orange liqueur. We ate marinated olives and red snapper crudo. For our second round, I ordered a Paloma Coma: Arette tequila reposado, grapefruit, St.-Germain, lemon, and cava brut. We sat there for more than two hours, enjoying the scene, then hiked home and slept deeply.
Sunday, April 12
The next morning we woke up at seven to another sunny, perfect morning filled with birdsong, and had coffee and an orange warm from the tree. Ho-hum. At 8:30, we had more coffee, plus a scrambled egg on a warm corn tortilla with cilantro, avocado, and Tapatio. Mid-morning, another orange from the tree.
Then we quit work to get ready for that night's cookout, which Meredith was throwing for us so we could meet some other L.A. writers. At 2:30, while making quinoa tabbouleh (inspired by my breakfast the other morning) and an elaborate green salad, I ate a few handfuls of cucumber, cherry tomatoes, radishes, avocado, and a few chickpeas. That was lunch.
That evening, I found myself once again at the table on the deck, which was now candlelit and populated by interesting, warm, funny people. I ate a plateful of food: a grilled chicken Italian sausage with grainy mustard, plus carrot salad, tabbouleh, and green salad. I drank lots and lots of cava. And for dessert, I ate two pieces of Meredith's almond-flour-orange cake with ginger-orange mascarpone.
After everyone left, we drank more cava while we cleaned up, and then a little more cava while we hung out until almost midnight on the deck, where we decided we'd like to stay for the rest of our lives.
Monday, April 13
The morning was, of course, sunny, warm, filled with birdsong, etc. After all the cava the night before, I mainlined two cups of coffee. At 10:30, I breakfasted on leftover green salad with a mound of leftover tabbouleh on top. At 12:30, I had a piece of toast with goat cheese and cucumber, an orange off the tree, and a handful of flax crackers. At 4:00, it was time for toast with marmalade and a cup of Earl Grey.
Then, at 7:30, we headed for Edendale on Rowena Avenue, where we sat at the bar for a couple of hours, eavesdropping intermittently on a couple next to us who were on what we surmised was a computer date; it began awkwardly, but an hour into it, they clearly decided they liked each other; they hunkered down and ordered macaroni and cheese and another round. To start, I ordered a hibiscus margarita, made with Iza organic tequila, hibiscus liqueur, agave, and lime on the rocks, along with a kale salad with Parmesan, lemon-anchovy dressing, almonds, sesame seeds, and nori. Then I had another margarita and the Manila clams, which came with chewy little nuggets of chorizo, potato, tomato, and parsley in a sherry butter broth, with a side of curried cauliflower.
We slept like worn-out toddlers yet again that night, and the next morning, we awoke to yet another perfect morning in the Silver Lake casita: birdsong, sun, coffee, oranges, a hike, and another great writing day. I finished the quinoa tabbouleh for lunch and instantly started jonesing for more.