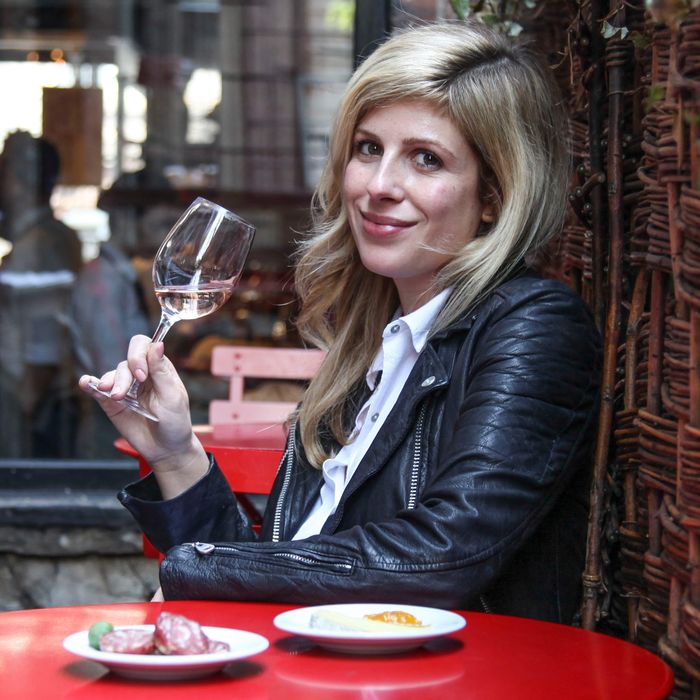 Baylin, at Buvette.
Photo: Hannah Mattix
"I can't do city life anymore," says Jessie Baylin, jokingly, even though the East Coast native grew up in New Jersey and used to live in Tribeca. Baylin is based in Nashville now with her daughter and husband (Kings of Leon's Nathan Followill), but this week brought her back to New York to support her new album, Dark Place, with a show at the Bowery Ballroom and an appearance on Late Night With Seth Meyers. This past week she spent some quality time at home, found great meatballs in Nashville, and, after getting to New York, managed to hit Jody Williams's Buvette not once, but twice in the same day. Read it all in this week's Grub Street Diet.
Thursday, April 16
For breakfast, I had two Americanos, two poached eggs, and a little square of filet mignon from dinner the night before that my dad, who is a chef and spoils me rotten, made for me.
Lunch was a cranberry-almond bar and ginger green juice. I was going to take my parents out for dinner that night, so I didn't want to eat too much during the day, but at home I ended up eating half of my daughter's Whole Foods pizza. I also had another shot of espresso and a handful of Holy Cacao macadamia nuts from Kauai Nut Roasters. It was the bottom of the bag, so thank God they're gone now, because they're fucking delicious.
For dinner, we went to Il Mulino, which just opened in Nashville. I didn't know that until the day before, so I was excited at the potential of great Italian in Tennessee. As an Italian girl, it's tough not being able to have those flavors. I can make it at home, but it's good to have it as an option now when we go out. So we had a bottle of sangiovese, which was great, and then we went kind of appetizer crazy: fried calamari, which was making me sweaty it was so spicy; grilled octopus with capers; ricotta and meatballs; burrata. There were four of us eating, so then we split the veal piccata, branzino, and porcini ravioli. We were just overdoing it. The meatballs were fantastic. They got them, like, spot-on.
Friday, April 17
I'm trying to do that water-and-lemon thing that they say cleanses your liver and makes you, you know, a happier human being. And I had two Americanos and a food hangover from the night before. I made an açai smoothie with lemon, hemp seed, kale, bee pollen, half a banana, and wild berries. My daughter, who's 2, ended up drinking half of it, so mid-morning I ate a string cheese and half an apple.
Lunch was at Bricktop's with my husband. I had an iced tea and a tuna roll.
Dinner was with my friend Vanessa at a place called City House. I had a glass of Champagne while I waited for her, then we shared octopus and an escarole salad with pecorino and roasted sunflower seeds. Sunflower seeds are so underrated as a seed. They're delicious, you know? Then I got catfish with this cauliflower-anchovy-chili-tomato relish on top. And we had, like, delicious dry Italian red wine.
Saturday, April 18
Water with lemon and two Americanos. I make them with a Nespresso, which has been my saving grace since I've become a mother. I just need to press a button in the morning. I shared half an avocado with my daughter, Violet, and then I did a little slice of cranberry grain toast with really salty butter. Then Violet and I had a dance party and gave ourselves belly aches because we danced our butts off.
For lunch, I drove downtown to Bajo Sexto at the Country Music Hall of Fame and picked up tacos for the family. It's Jonathan Waxman's taqueria. They open at 10:30 and I got there at 10:50 a.m. The line was already around the block. It's crazy. So we had chicken tinga tacos with chips and guacamole. And Valentina hot sauce on top, which I'm obsessed with. It was the perfect Saturday lunch, and I'm pretty sure we're going to make it a Saturday thing for the rest of the summer.
We decided to kind of hibernate for dinner. I just did some simple salmon and roasted zucchini that I topped with red-wine vinaigrette and a ton of dried herbs. And we had an arugula-spinach salad with parmesan and some simple dressing. Sparkling water to drink. Trying to be good.
Sunday, April 19
Lemon with water, and I took the time to make coffee with our French press. Someone gave me coffee from Feisty Goat Coffee Roasters. It's this super-duper small-batch shop that only sell at one farmers' market in town. It's just some guy that's making the coffee. And it's delicious.
I made that cranberry-grain bread into French toast and had a fried egg, too.
For lunch, our friend Jim came over. We call him Captain America because he's a giant, muscly man who seriously saves us all the time. He made us lunch. He fried up little corn tortillas and cooked some black beans that he smashed down to make, like, a tortilla black-bean sandwich. One has some pork verde on top, with a fried egg and avocado slices. And then, of course, Valentina hot sauce. So good.
For dinner, we had a caprese salad and baked panko-parmesan chicken cutlets. This chicken is my husband's favorite dish that I make because it's basically a giant chicken finger. He's into food, and I've gotten him more obsessed with it, but at the end of the day, if left on his own, he just wants to eat like a 5-year-old. He only eats, like, four vegetables and I have to trick him into eating some things, so the fact that he likes breaded chicken cutlets is understandable, you know? They are delicious, though.
Monday, April 20
It was 4/20. I made a weed smoothie. I'm kidding. I didn't. Maybe I should have, though. But I made a smoothie with açai, blueberries, strawberries, a chunk of avocado, hemp seeds, honey, lemon, spinach, chia seeds, and pollen. I gave some to Violet and she kept hugging her smoothie. She was like the guy from Lord of the Rings, but she was calling it her present instead of her precious. It was funny.
For lunch, I sliced up a leftover chicken cutlet and tossed the leftover caprese with some arugula. Added some more olive oil, a dash of balsamic, and a little avocado sliced on top because I was going to be traveling later that day and I knew I was probably not going to be able to eat a good dinner …
… and my flight ended up getting delayed, so for dinner I ended up eating hot wings at Tootsies in the airport. Tootsies is a big honky tonk that's down on Broadway in Nashville, and they opened one in the airport. So there's live country music and stuff. So I was eating hot wings, and of course I chose the bar facing the airport concourse, which is the worst place to eat wings because you're looking out at everyone walking by and you're just covered in sauce.
When I got to New York, I was staying in the West Village and hoping I would get to have some kind of late-night meal, but that didn't work out, so I drank whiskey in bed with my friend and that was it.
Tuesday, April 21
My friend Maggie made me an early morning shake with matcha powder, a bunch of spinach, almond butter, frozen pineapple, and almond milk. Very healthy. I will say, it made my day a little better.
For breakfast, we walked around the corner to Buvette and I had the steamed eggs with smoked salmon and capers, and a cortado. Later we went to the Juice Press, but then we actually did the photo shoot for this story at Buvette, so I went back. I double Buvette'd. I ended up having two cheeses and a charcuterie plate.
For dinner, we were thinking of going to the new place, Via Carota, but is that going to be too much Jody Williams? We're thinking of going there, or Dirty French. I haven't been there yet. We used to be here more frequently because we had a place, and I grew up in New Jersey, so it's great to come back and visit. New York is definitely still home to me in a lot of ways.