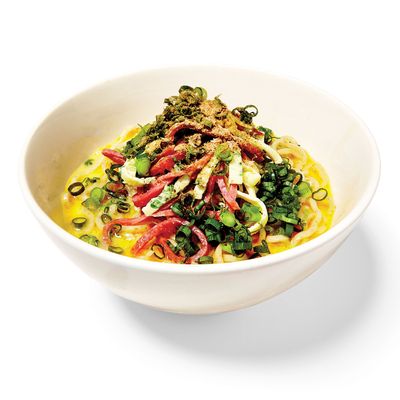 Photo: Bobby Doherty/New York Magazine
When we heard that the great ramen innovator Ivan Orkin and his Slurp Shop chef Brian Gremillion had created a "breakfast ramen," we thought, Aha! Something bacon-and-eggy for lunch or dinner, no doubt. As it turns out, Orkin's 8AM ramen is part of the shop's new weekday breakfast and weekend brunch menus at Gotham West Market, and as such, it's meant to fortify you as soon as you roll out of bed. Other than that, how does this breakfast ramen differ from a regular ramen? For one, its broth is made of a fiendishly good combination of dashi and Cheddar cheese whose silky texture lies somewhere between runny egg yolk and Tex-Mex queso.
There's also a scallion omelette and Taylor ham (a.k.a., New Jersey's state meat) involved. If you think of the dish as some refined and slurpable ramen equivalent of a diner-style ham-egg-and-cheese on a roll, then you've got it.
The ramen debuts this weekend for brunch, from 8 a.m. to 4 p.m., along with morning delicacies like buckwheat-and-kasha pancakes and a "seriously traditional" Japanese breakfast plate, and is also available Monday through Friday from 8 to 11:30 a.m.
Mouse over or tap the image to read more, then take a look at the brunch menu.
On the breakfast menu at Ivan Ramen Slurp Shop at Gotham West Market, $13; 600 Eleventh Ave., nr. 44th St.; 212-582-7942.
Brunch Menu [PDF]
Photo: Bobby Doherty/New York Magazine

*This article appears in the May 4, 2015 issue of New York Magazine.