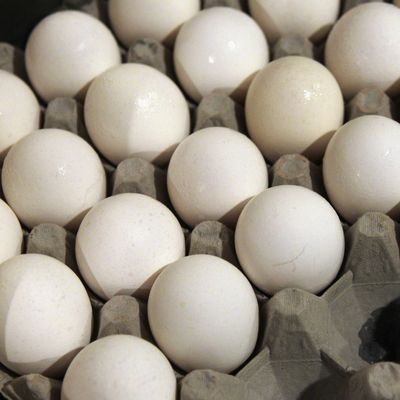 Some rotten news.
Photo: Justin Sullivan/Getty Images
The USDA confirms there's been a big outbreak of bird flu at a vital egg supplier in Iowa. For now, authorities aren't releasing the farm's name, but they did say its 5.3 million birds account for almost 10 percent of Iowa's laying hens. Because Iowa produces 20 percent of America's eggs (the most of any state), that means the farm is responsible for about 2 percent of the country's egg supplies.
The Iowa Poultry Association says all of the affected eggs have been found and quarantined, but unfortunately it's much bleaker news for the hens. The virus poses a low risk to people, but to keep it from spreading to even more animals, all affected flocks have to be destroyed. So far, birds in three of the farm's 25 barns have been killed, but the USDA still says it has no idea how many barns are affected.
This flock, located somewhere in Osceola County, is almost twice the number of birds previously affected by the virus, which is actually becoming a serious problem for the poultry industry. Hormel Foods, the second biggest U.S. turkey producer, said yesterday that outbreaks in the Midwest were causing "significant challenges in our turkey supply chain," and Wisconsin Governor Scott Walker just declared a state of emergency and mobilized the National Guard to respond. Authorities have assured everyone the "food supply is safe," but, less reassuring, also admit nobody's sure when the disease's spread might stop.