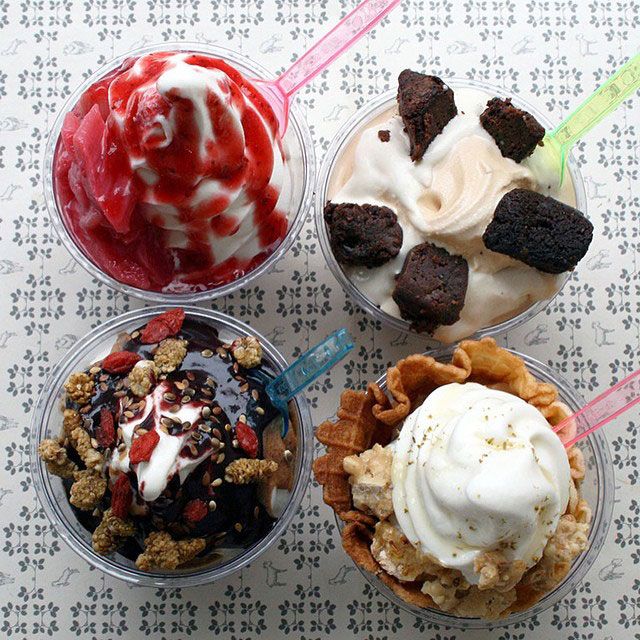 Victory Garden's new seasonal sundaes, made with goat's milk soft-serve.
New York is fast approaching ideal ice-cream-eating weather conditions, which means that the city's ice-cream parlors are rolling out some excellent new flavors. This year, many of them are seriously creative: Morgenstern's is adding an entire strawberry section to its menu, Oddfellows recently introduced a maitake-mushroom flavor, and Van Leeuwen will soon launch a collaboration with a local forager. Here's a look at some new sweets for spring:
Dandelion Flower & Pistachio
Where: Van Leeuwen
A new collaboration with forager Rhett Godfrey, set to debut in late June, will feature locally foraged flavors like Wild Root-Beer Float, with sassafras root; Wild Toffee coffee, with Kentucky Coffeetree; Sour Strawberry, with Japanese knotweed; and Forest Harvest Mint Chip. Plus: The Williamsburg shop, opening soon, will be the first to offer soft-serve and vegan frozen yogurt.
Vegan Açai Soft-Serve
Where: A.B. Biagi
In a few weeks, the Nolita shop will debut a virtuous soft-serve made from açai (the Brazilian superfood), almond butter, and a rotation of fresh fruits.
Every Kind of Strawberry Imaginable
Where: Morgenstern's
The ice-cream shop made a name for itself by offering five variations of vanilla, and soon, the team will introduce an entire section of the menu devoted to strawberries: There's Salty Strawberry Sqirl (swirled with the L.A. restaurant's famed strawberry-rose-geranium jam), Strawberries N' Cream, and Stawberry Almond Joy, with toasted almonds, coconut, and chocolate chunks.
"Coming to America"
Where: Mikey Likes It
This East Village parlor now serves Moet champagne ice cream with rose petals. Fancy!
Raspberry-Rose Popsicle
Where: People's Pops
Look out for this new popsicle at Smorgasburg — made with fresh fruit, of course.
Raisin Toast
Where: Oddfellows Ice Cream Co.
Sam Mason has created a few new flavors: Malt Maitake Peanut — ice cream with actual maitake mushrooms and toasted peanuts; and Raisin Toast — toast ice cream with raisin puree and toast "soil." Mason will also bring back the beloved Cornbread Sundae, which hasn't been on the menu since the summer of 2013.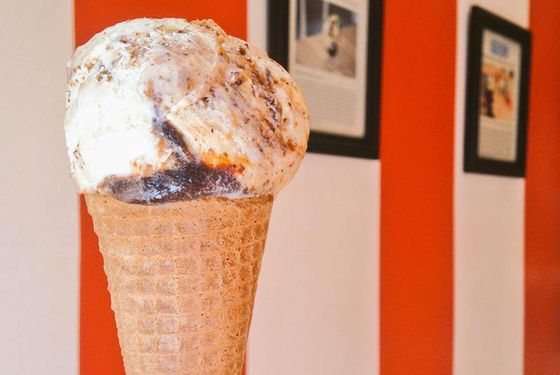 Root-Beer Float
Where: Momofuku Milk Bar
On April 29, Christina Tosi will introduce three new soft-serve flavors: cinnamon-pineapple at the midtown shop, pink-lemonade in Williamsburg, Carroll Gardens, and Soho, and root-beer float at the East Village and Upper West Side outposts. The latter isn't a classic float — it's a soft-serve that captures the flavor.
Blueberry-Limoncello Sorbet
Where: Ample Hills Creamery
Power move: Pair it with Strawberries & Cream, and enjoy both flavors on the Gowanus shop's sprawling rooftop deck.
Horchata Soft-Serve
Where: Big Gay Ice Cream
Douglas Quint and Bryan Petroff just started making horchata soft-serve — based on the traditional Mexican rice-milk drink — as well as a rotating special of cereal-inspired Trix soft-serve.
Blood Orange
Where: Amorino
This Italian gelato shop, on University Place, has added an American-leaning blueberry-cheesecake flavor, too.
Key Lime With Graham Cracker
Where: Il Laboratorio del Gelato
Other new flavors include brown sugar, chocolate-orange, and carrot — and, as regulars know, the menu frequently changes, so expect even more as the warm weather wears on.
Giardino Vittoria
Where: Victory Garden
Goat's milk soft-serve is the specialty here, and founder Sophia Brittan has conceived a few new seasonal sundaes. This one — with a fennel-seed cone, candied pine-nuts, bitter orange drizzle, and fennel pollen — can be paired with any of the flavors on tap.