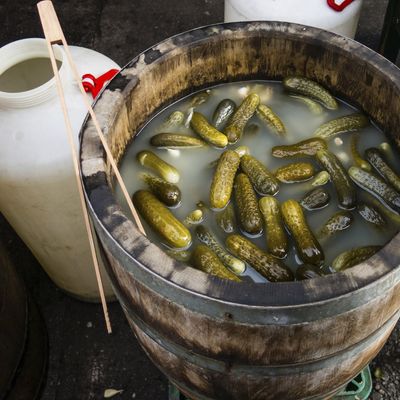 You're going to need a permit for those pickles.
Photo: Tibungla/Getty Images
After a visit from inspectors at New York City's Department of Health and Mental Hygiene, the staff of Il Buco was faced with a dilemma: Either douse its homemade sausages in bleach or shut down completely. The kitchen chose the former, treating its carefully cured products as if they were toxic waste and wiping out months of work in the process. "We had created our own setup that was very regimented," says Il Buco owner Donna Lennard of the encounter with the DOH. "They didn't understand; they didn't want to talk about it."
 
Ancient preservation techniques like fermenting and curing rely on bacteria and warm, but not hot, temperatures to actually work — things the DOH tends to want kitchens to specifically avoid. But anyone who's had traditional air-cured Italian salumi like culatello will tell you that the funk and depth created by the extremely slow breakdown of the meat simply can't be replicated through any other means. What's more, the techniques are widely used: Even something as common as Huy Fong sriracha is made with peppers that are first gently fermented.
 
The Il Buco incident occurred in 2006, and things have gotten slightly better for cooks since then, as the Health Department has softened its stance. But chefs who want to cure or ferment their own ingredients still find themselves at the mercy of an uncomprehending government agency. "They're not foodies, they're health inspectors, and a lot of them don't know the difference between a Meyer lemon and a lemon," says Joel Hough, the executive chef of Il Buco and Il Buco Alimentari. (In 2011, the DOH labeled kimchee as a potentially hazardous ingredient before eventually relenting.) "They have this idea that every single thing has to be ice-cold or boiling-hot," one cook who's worked in Michelin-starred restaurants tells Grub Street.
 
When Grub Street asked a DOH rep about the relationship (getting an answer required 25 emails over three weeks), they said, via email:
 

We possess expertise in food safety and can determine if a HACCP plan is being properly used. Our staff will speak to the sciences of as to why something is required by the health code, but we are a regulatory agency and typically don't teach or provide demonstrations on the various ways in which food may be preserved.

 
(HACCP stands for Hazard Analysis & Critical Control Points Plan; these can often be too complex and costly for small, understaffed restaurants to adopt.)
 
So chefs ferment in secret. The cook from the Michelin-starred restaurants (who wanted to remain anonymous to avoid the ire of the DOH) has seen the following things in the city's best kitchens: lacto-fermented hot sauce (which involves first treating peppers in a bacteria-promoting brine), curing fish and Japanese pickles overnight in the walk-in fridge, sausages hung to cure in a wine cellar, poultry that's left out to dry-age, homemade vinegars, or even cold-smoking techniques. "It was all super off-the-record and super hidden," the cook says. Even still, he adds, kitchen staffers strive to produce these products as safely as possible: "Chefs have as little desire for customers to get sick as you do."
 
Some chefs are ditching the undercover approach in favor of a novel legal solution: opening stand-alone R&D; spaces that aren't technically restaurants and, as a result, are outside the DOH's purview. Over the last four months, Will Horowitz, the chef and co-owner of Ducks Eatery, has been building out a 2,200-square-foot space he'll use to make fermented products, charcuterie, dairy products, and more. The final list still depends on permits, but Horowitz says he's pushing hard on smoking eels and creating classic Spanish conservas. There will also be a retail space, called Harry & Ida's Meat & Supply Co., which will offer sandwiches and goods like preserves. David Chang also launched his own famously secretive culinary lab in 2010, which has resulted in the Kaizen Trading Company product line, focused on innovative uses of traditional fermentation techniques (such as a completely new misolike paste made with chickpeas or the group's new Ssäm sauce).
 
Horowitz also views his own forthcoming space as something more like an educational proof-of-concept, an actual facility that can eventually help other chefs practice these techniques within the DOH's parameters, but without prohibitive restrictions. (Although he's gotten various HACCP approvals from Penn State and Cornell in order to legitimize his efforts.) "Our goal is to practice and record the science behind the techniques we find most interesting," Horowitz says, "so we can take very innovative looks at that and share them." And if that happens, more New York chefs might be able to take their secret sausages out of their wine cellars once and for all.