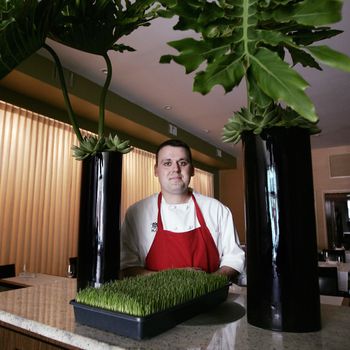 The chef, at his restaurant Moto in 2007.
Photo: Jeff Haynes/Getty Images
The October 2006 issue of Gourmet featured a photo that was atypical of a glossy food magazine: Instead of a lovely slice of pie or a hefty burger, a chef's eyes peeked out from behind a menu that the chef himself was eating. It was incongruous, a stance against the farm-to-table movement that was gaining steam at the time; it was an image you might instead expect to see on Wired. It was also wholly appropriate for its subject, Homaro Cantu, a chef who seemed determined to push against trends and people's expectations.
Cantu was found dead yesterday, reportedly having committed suicide in a brewery he was building in Chicago. He was only 38, and it's a tragic end to a career that was marked by a number of innovative ideas.
The edible menus were perhaps Cantu's best-known creation, along with an actual laser he used to cook food. Other ideas that sprung from his kitchens at Moto and iNG (which closed last year) included liberal use of an anti-griddle (which cooks food by flash-freezing it), high-minded trompe l'oeil, and entire courses centered around themes like "garbage salad" (complete with edible raccoon paw prints). While Cantu never gained the acclaim of contemporaries like Wylie Dufresne or Grant Achatz, Moto was nevertheless awarded a Michelin star in the company's 2012 guide, which the restaurant maintained through this year.
Cantu's legacy, of course, won't be as a chef who was committed to what you might call the pleasure principles of dining. He always seemed more interested in teaching his customers something, and pushing to reveal some larger potential beyond sating hunger. His last project, a coffee shop called Berrista, put a heavy emphasis on miracle berries, fruits that trick the tongue into thinking sour and bitter foods are sweet — a fascination of Cantu's that resulted in 2013's Miracle Berry Cookbook. Not exactly the kind of coffee-table cookbook most brand-name chefs publish. "I'm interested in new kinds of food movements. I'm interested in getting people to stop eating so much sugar," he told Grub Street at the time of the book's publication.
More recently, it was announced that Moto's chef de cuisine, Richie Farina, would be leaving the restaurant. Additionally, an investor in the restaurant sued Cantu last month, claiming the chef has used business finances for personal expenses, and that Cantu had failed to pay out appropriate profits. According to the Chicago Tribune, Cantu hosted a special themed dinner just as news of the suit became public with fellow Chicago chef Phillip Foss, who told the paper, "It showed a great character that he even showed up, given what happened that day. He told me, 'What are you gonna do? I'm going to work through it.'"
As news of Cantu's death spread late yesterday, the outpouring of support was immediate and abundant, especially on social media, as anyone interested in cooking or restaurants reconciled the sudden, surprising loss of a chef who did as much as anyone to upend the status quo.