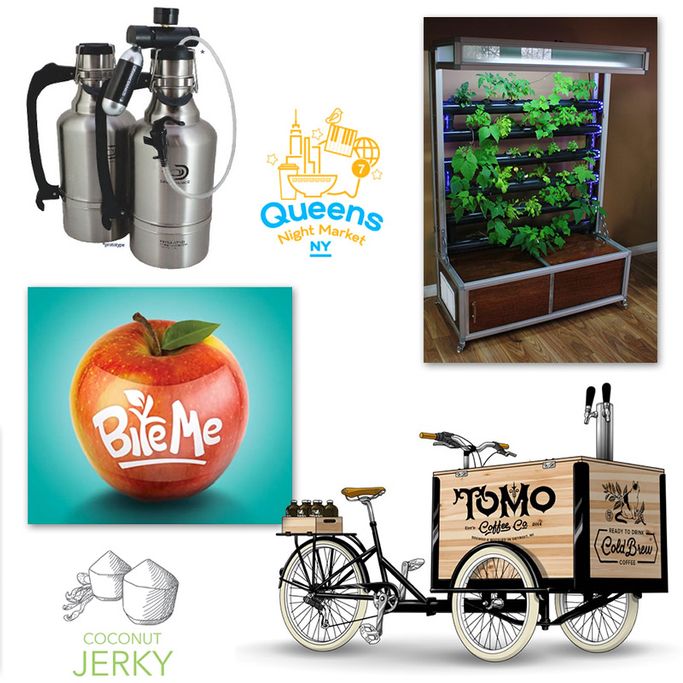 Deserving on some attention.
Photo: Kickstarter
The world of food-focused crowd-funding campaigns is ever-growing, and while some leave a lot to be desired (looking at you, potato salad), there are also a number of gems. In the service of some causes that could use a boost, we're highlighting them here. Current initiatives include a gardening system for city-dwellers, a dinner in the sky, and a cold-brew coffee cart in Detroit. Here are nine projects that you can fund right now — and six successful ones to be on the lookout for:
Bite Me
This project aims to develop an advertising campaign for fruits, vegetables, and other healthy food to make them seem as appealing as junk food.
Goal: $100,000
Time Remaining: 16 days.
Brooklyn Bees
A Californian beekeeper is trying to assemble a community of beekeepers in Brooklyn, and she aims to provide classes, products, and a safe space for the growing community to converse.
Goal: $20,000
Time Remaining: 14 Days
Drink Blocks
This project is intended to help children become healthier by selling a sugar-free-juice drink that doubles as a building-blocks set.
Goal: $10,000.
Time Remaining: 34 days
The Juggernaut and Kegulator
This campaign is working to develop personalized and portable beer kegs and growlers, ranging from $25 to $39.
Goal: $75,000
Time Remaining: 7 days
Cold Brew Coffee Cart
Tomo Coffee Co. wants to bring cold-brew coffee on tap to the farmers' market and outdoor events of Detroit this summer.
Goal: $7000
Time Remaining: 16 days
Queen's Outdoor Night Market
New York can never get enough outdoor markets — and if this one in Queens succeeds, it'll launch April 25 and run through October.
Goal: $100,000
Time Remaining: 3 hours
Relaunch of One Lucky Duck and Pure Food and Wine
Despite the rocky ending this organic New York restaurant saw a few months ago, it is getting a second chance through the magic of crowd-funding.
Goal: $50,000
Time Remaining: No deadline
Vertical Gardening
Gardening in an apartment in New York is basically impossible, but this project will make growing just about anything accessible to even the windowless. The products will come in an array of sizes — some with climate-control and lighting attachments — and will cost between $200 and $5,000.
Goal: $30,648
Time Remaining: 35 days
Yumr
This app intends to be a combination of both Tinder and Yelp, to help you figure out what you want to eat by letting users filter through an array of dish options from different restaurants. Swipe right for pizza!
Goal: $3,908
Time Remaining: 14 days
Bonus: Already Funded Projects That You'll Want to Keep an Eye On:
Coconut Jerky
Jerky, until now, has been an item that vegetarians have just had to do without, but now that this project has been successfully funded, you can purchase a suitable vegan alternative online and have it shipped anywhere.
Cooking With Granny
This project has created a web series devoted to ten different grandmas and their mystical cooking methods. You can watch it here.
Hot Sauce Tasting Room
This isn't a stunt: Its grand opening is on April 18.
Probiotic Coffee
Instead of a glass of kombucha and a cup of coffee in the morning, knock them both out at once with some probiotic coffee instead. This project surpassed its funding, but unfortunately the founders have been having trouble with the FDA for the last year, so it may be a while before we seeing this lining the walls of Whole Foods.
Stainless Steel Protein Shaker
Plastic protein shakers are a nuisance: hard to clean, faulty, and leaky. This project is creating a state-of-the-art stainless-steel version, which serious athletes will surely love. The creators are aiming to make it available by this summer.
Urban Mushroom Farm
Mushroom farming, while normally reserved for damp, woody areas, will soon begin in cities throughout the world, now that this project has reached its goal. This project is using its funding to secure a farm in London, but they are also selling mushroom-farming kits that you can buy here.