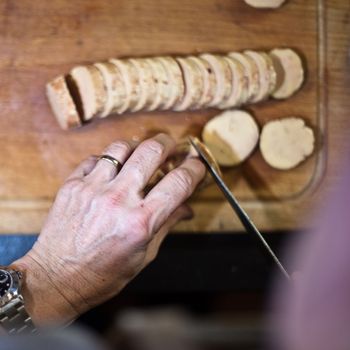 Kalenderian says that he's glad he stuck up for foie gras.
Photo: Robin Cerutti/Getty Images
Another online spat has cost a chef a job — this time over foie gras. Mark Kalenderian, executive chef at the Tam O'Shanter, one of L.A.'s oldest restaurants, was forced to resign after telling an anti-foie protester he'd "forgo cooking any animal to use your disassembled corpse" for his stock, among several other not-family-friendly things.
Somewhat bizarrely, the mess went down on the Facebook page for the restaurant Terrine, one of L.A.'s famously pro–foie gras spots, after a female customer attacked the eatery. Kalenderian saw the negative posts and came to Terrine's defense, responding that he'd use the customer's bones for a "big ol' batch of c— stock." In case that weren't enough, he added that her activism stemmed from needing to "fill the void of motherhood that your shriveled up ovaries craved for so long."
Per usual, the comments got scrubbed, but not before the worst ones were forever preserved in the Twittersphere:
Join the Global Boycott of @TamOShanterLA b/c of Chef Mark Kalenderian's death Threats! https://t.co/kbgam3GG40 pic.twitter.com/dUeBGJoI9S— The Paw Report (@ThePawReport) April 3, 2015