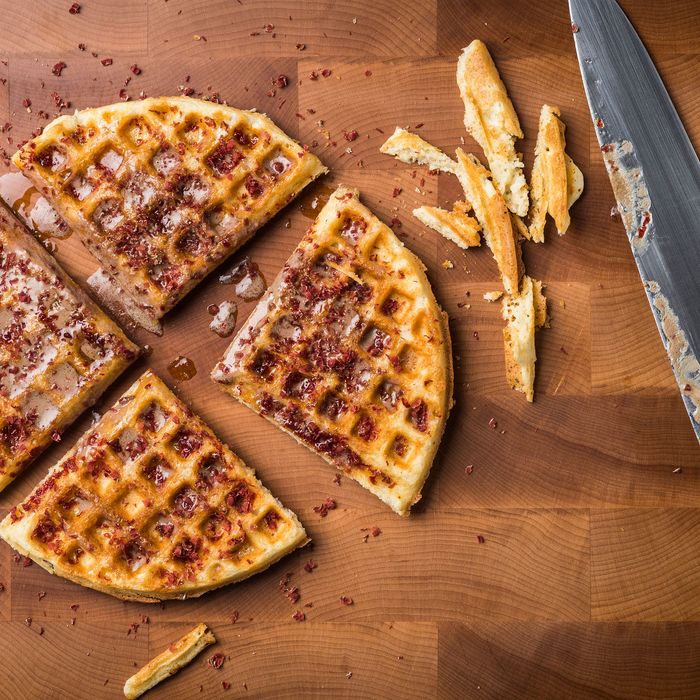 There will be masa waffles.
Photo: Evan Sung
If you happened to be in the vicinity of lower First Avenue in the East Village the other day, you might have witnessed something alarming: the papering-over of the windows at Alex Stupak's three-year-old Empellón Cocina. Not to worry. Stupak informs us that the restaurant is merely closing for a spot of spring cleaning. "The entire dining room is getting a facelift and will ultimately feel a lot lighter, warmer, and friendlier," says the chef.
But that's not all. After the place reopens on the 28th, Stupak will begin experimenting with a tasting menu he'll debut on May 5. He says he'll start out slowly by personally serving the new menu to only one table per night. If it goes well, he may offer the tasting menu to more customers. A new à la carte menu will be available for the rest of the dining room and for those eating at the bar.
"I believe some ideas simply cannot manifest comfortably on an à la carte menu," explains Stupak. And just what kind of ideas is he talking about? Well, for starters, there are trout-skin flautas, blood chalupas, and something called inverse al pastor tacos. "Our first menu is looking to be around 18 courses with a notable amount of it eaten with the hands," he says. "This is exciting for me because I think it's somehow similar to the culture of tacos and antojitos, which are undoubtedly my favorite part of this cuisine."
Take a look at some of the new tasting-menu dishes, plus descriptions provided by Stupak himself.