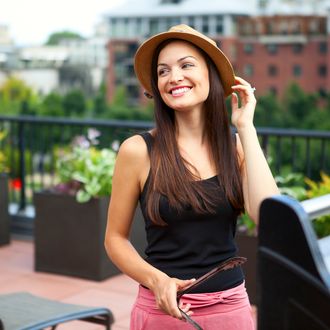 New Yorkers are always looking for more space—storage for overflowing closets, counter space in cramped kitchens, a sliver of space in a crowded subway car. And in the search for room to throw parties, apartment rooftops are the final frontier.
Well, FreshDirect wants you to "Go Forth and Conquer" your rooftop with a summertime barbecue! A rooftop cookout is a quintessential New York City experience, with its open-air setting—room to mingle!—and sweeping sight lines. But as nearly all New Yorkers are consummate foodies, the standard offerings at barbecues simply won't do. The following recipes and food selections will help you throw the best party, elevating not only your headspace but the basic barbecue, too!
"Instead Of" Shopping List
Instead of hot dogs, offer Andouille sausages with fresh brioche buns and a kimchi relish.
∙ Applegate Farms Organic Spicy Andouille Chicken & Turkey Sausage
∙ Fresh Brioche Hot Dog Buns
∙ Kim Chee Pride Korean-Style Pickled Vegetables

Instead of beef burgers, grill up spicy bean patties. Serve them with slices of avocado, tomato, and red onion—and on Challah rolls instead of buns (a great alternative for your vegetarian guests!).
∙ Morning Star Spicy Black Bean Burger
∙ Hass Avocados
∙ Backyard Farms Pink Beefsteak Tomatoes
∙ Organic Red Onion
∙ Fresh Challah Rolls

Recipes
Earth 'n' Turf Salad
Since one of the joys of a barbecue is the minimal prep time, we suggest making an easy side dish. Skip the pre-cooked pasta or potato salad and toss up an Earth 'n' Turf no-cook salad.

Ingredients

∙ Your leafy green of choice (kale, baby chard, spinach, or some mixture of them)
∙ 1 apple, chopped
∙ Aged cheese, such as this local Grafton Village Cheese Company Cheddar, cut into cubes
∙ Olives
∙ Sliced salami, such as Beretta Milano Dry Salami

Just toss all these ingredients into a bowl with a simple oil-and-vinegar dressing with a dash of Dijon mustard. Season with salt and pepper, and you've got a great-tasting side salad that took less than ten minutes to make!
Blueberry and Chocolate-Chip Yogurt Popsicle
Ice cream is a staple of barbecues across the country, but a New York City cookout requires one to think bolder. These Blueberry and Chocolate-Chip Yogurt Popsicles are certainly bold—while also being nearly effortless in execution—and will help make your rooftop revelry memorable.Ingredients


∙ Yogurt (we used Kefir strawberry, but you can substitute your fave flavor)
∙ Chocolate chips
∙ Blueberries or other small berries

Add the ingredients to a popsicle mold. Freeze for a few hours (overnight is best) and enjoy!
For more great recipes, visit Sourced, FreshDirect's blog about people and food.