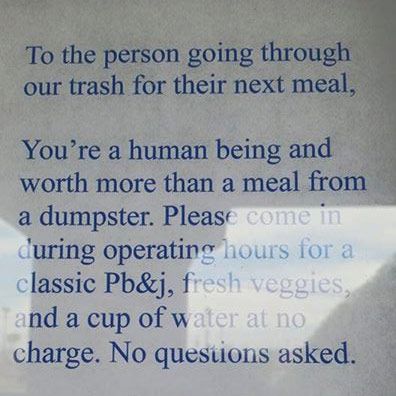 "No questions asked."
Photo: P.B. Jams/Facebook
Ashley Jiron, owner of a sandwich shop in Oklahoma City called P.B. Jams, was upset to discover that someone had been digging food scraps out of her store's trash bags, instead of getting to eat like "a human being." So, she printed a sign and affixed it to the dumpster with 30 pieces of tape:
To the person going through our trash for their next meal,

You're a human being and worth more than a meal from the dumpster. Please come in during business hours for a classic Pb&j;, fresh veggies, and a cup of water at no charge. No questions asked.

-Your friend, the owner
It looks like Jiron's customers sympathized with her explanation that "we've all been in that position where we needed someone's help." Her act of kindness has inspired a GoFundMe campaign to raise $20,000, so she can feed anyone "who might have even looked at her trash." Meanwhile, Jiron says the sign isn't going anywhere until the person comes in for a bite.
[KFOR]