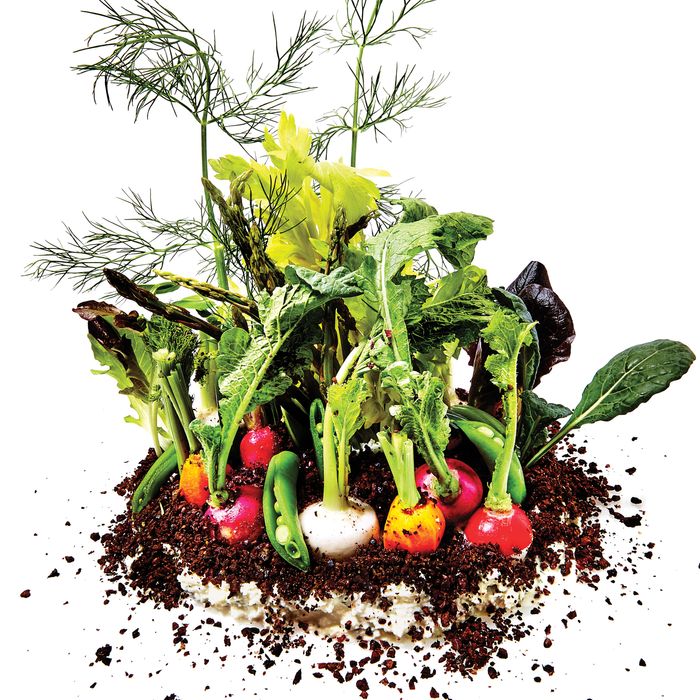 Boulud Sud's Stokes Farm Spring Vegetable Garden crudité.
Photo: Bobby Doherty/New York Magazine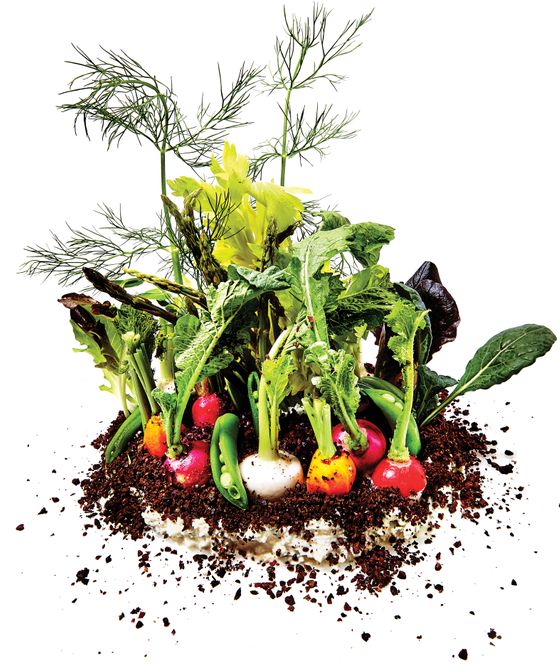 Many chefs coddle their regulars with snippets of some rare crudo or house-cured ham. At Boulud Sud, chef Travis Swikard has been surprising his VIPs with bowls of raw vegetables. This is not some cruel form of punishment or practical joke: Stokes Farm Spring Vegetable Garden, which Swikard just put on the menu, is a rustic composition of flora, all seemingly sprouting from fertile soil. That soil, in fact, is dehydrated Niçoise olives set in a bed of whipped feta mousse, both of which are intended as a dip for the sugar-snap peas, celery hearts, fennel fronds, Thumbelina carrots, and Easter Egg radishes, among other roots and leaves that the chef arranges as artfully as a Cézanne still life. (He's named the dish for the Jersey farm and Greenmarket pioneer that supplies the greens and tendrils that currently populate the arrangement; as the season progresses, Swikard will source nearly every ingredient from Stokes.)
And he's not alone: Crudités have enjoyed a recent revival at restaurants like the Polo Bar, Cafe Clover, Porchlight Bar, Dirty French, Evening Bar, and especially the Major Food Group's coastal-Italian fantasy, Santina, where the scene-stealing Giardinia crudité has become a signature dish. Why the resurgence? Vegetables are bigger than ever now, especially in their heirloom, exotic-variety form, and they lend themselves to the sort of art-imitating-nature creativity of René Redzepi's flowerpot of root vegetables or Michel Bras's influential "salad," Gargouillou, without requiring chefs to painstakingly cook each component. But let's not forget the true if unspoken purpose of the raw, virtuous crudité: as a convenient vehicle for rich, piquant sauces, ranging from anchovy emulsion to boiled-peanut hummus, and all a very long way from Lipton's onion dip.
*This article appears in the April 20, 2015 issue of New York Magazine.