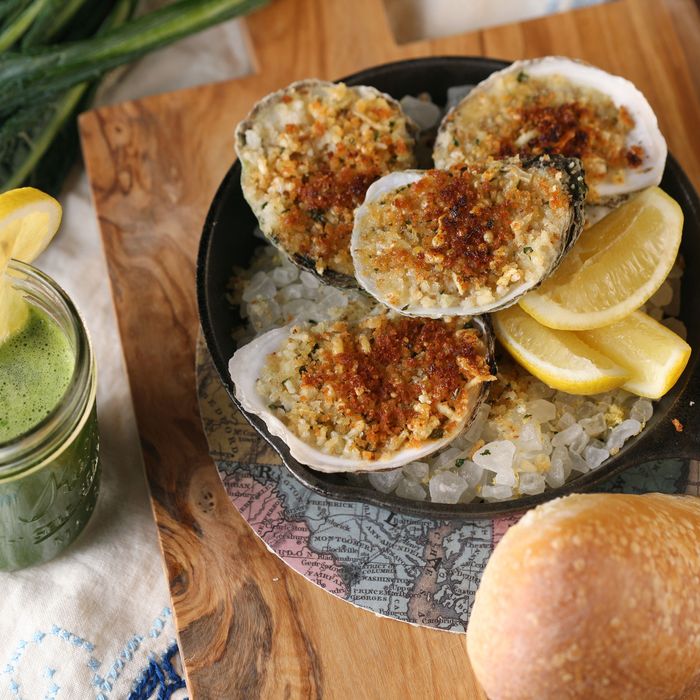 The roasted oysters at Blue Smoke.
Of course, as the warm weather arrives in New York and diners are finally able to eat outdoors again, many raw oysters will be slurped. This is a mandatory spring ritual, and it is one in which Grub plans to take part in immediately. But the city is also full of expertly cooked oyster dishes that really show off what some talented chefs are capable of. With that in mind, here are ten spots serving composed oyster dishes that you might want to check out soon, too.
Broiled Oysters
Where: Bowery Meat Company
Price: $21
Josh Capon drew inspiration from Drago's in New Orleans — one of his favorite restaurants. He tops each oyster with a compound butter comprised of Romano cheese, Panko breadcrumbs, minced garlic, black pepper, white pepper, cayenne, chopped parsley, and lemon juice. They're served by the half dozen, hot out the oven.
Crispy Pork and Oyster Salad
Where: Kin Shop
Price: $14
Harold Dieterle just added this item back to the menu for the spring season; it includes celery, peanuts, and a mint-and-chili-lime vinaigrette.
Buffalo Fried Oysters
Where: Greenpoint Fish & Lobster Co.
Price: $12
Why not get these alongside some fried-fish tacos? Fried oysters, with housemade ranch and celery.
Grilled Oysters
Where: King Bee
Price: $12
Even if you still can't quite wrap your head around this restaurant's specialty, which is Acadian-style cuisine, all you need to really know is that this East Village restaurant puts a heavy emphasis on shellfish. These grilled oysters come with a rich cabbage-garlic butter.
Pankora-Fried Oysters
Where: Annisa
Price: $16
This is Anita Lo's riff on an Indian-style snack fritter: First, she coats her oysters in chickpea flour, then deep-fries and serves them with fresh cucumber, fennel, and yogurt sauce.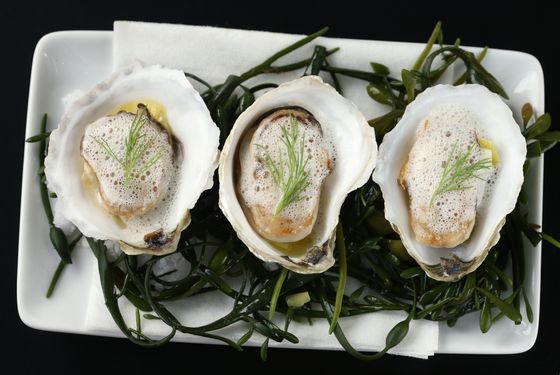 Grilled Oysters
Where: Jeffrey's Grocery
Price: $15
The best part of this dish, which includes rich garlic butter and Parmesan, is that it comes with thick-cut French bread.
Roasted Oysters
Where: Blue Smoke
Price: $16
This dish — with smoked garlic butter and green onions — is also served at brunch time.