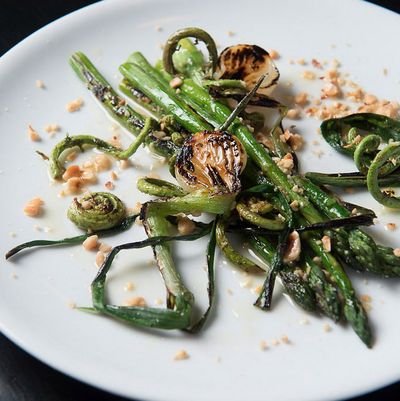 Rebelle's asparagus, spring onions, fiddlehead ferns — oh my!
Despite the fickle weather in New York, plenty of chefs around town are ready for the full-on arrival of spring, and that means ingredients like morels, asparagus, fiddlehead ferns, spring garlic, and peas have hit the city's menus. In fact, it's exciting to (finally) see produce other than beets and carrots and potatoes on menus. If these 15 dishes are any indication, spring in New York is going to be absolutely delightful.
Asparagus, Spring Onion, Fiddlehead Ferns
Where: Rebelle
Price: $15
At this brand-new restaurant on Bowery, chef Daniel Eddy sautés asparagus, chars spring onions, and tosses them with fiddlehead ferns in citrusy vinaigrette made with hazelnuts and a dash of maple syrup.
Morel Toast
Where: Eli's Table
Price: $17
One toast that's actually worth Instragramming: morels, cream, and thyme on Eli's housemade toasted bread.
Potato Ravioli With Morels
Where: Little Park
Price: $17
New to the menu is a butterball potato ravioli with morels and spring garlic — a perfect accompaniment for the restaurant's beet tartare (and the cinnamon-toast ice cream).
Notti Greens With Ramps
Where: Streetbird Rotisserie
Price: $6
One of Marcus Samuelsson's side dishes is comprised of roughly chopped ramps, green beans, chopped peanuts, chile oil, dried red chilies, and lime juice — all sautéed in a wok with grapeseed oil. And depending on their availability, he might add fiddlehead ferns, too.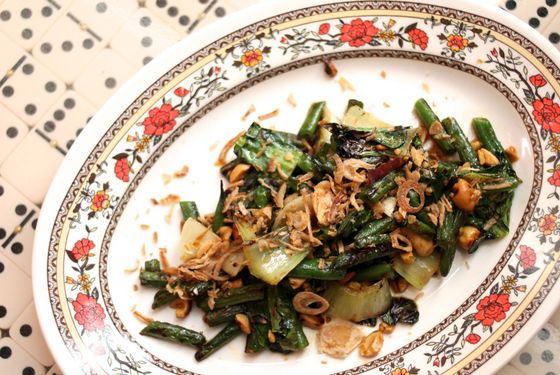 Spring-Radish Ravioli
Where: Dirt Candy
Price: $23
Amanda Cohen's at her best when she's cooking pasta, and for this new dish, she makes the dough from black radishes, fills the ravioli with even more radishes, and then adds a pesto sauce made from radish greens. To finish: radishes poached in cardamom-and fenugreek-infused butter, and lemon-labneh sauce.
Foie Gras a la Plancha with Rhubarb
Where: Toro
Price: $15
To lighten up the hunk of foie gras, sweet-and-sour rhubarb gets cooked in lime, ginger, and caramelized honey. This dish also includes jicama, chervil, tarragon, lemon balm, and green-garlic puree.
Chawanmushi With Spring Radishes
Where: Bara
Price: $10
This new East Village restaurant serves up a hybrid of French and Japanese cuisines. This traditional Japanese custard gets paired with crab meat, aromatic herbs, and seasonal radishes.
Strozzapretti With Ramp Butter
Where: Osteria Morini
Price: $22
Here's an ideal spring pasta: strozzapretti, spring-onion ragu, guanciale, and ramp butter.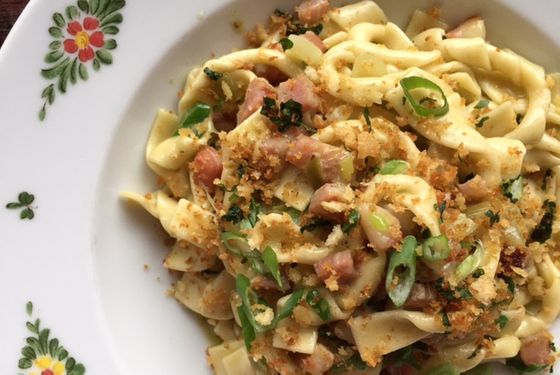 Meyer-Lemon Pizza
Where: Upland
Price: $18
Justin Smillie's newest pizza combines stracciatella, anchovy, spring garlic, and the seasonal lemon. He's also serving a super-seasonal seared quail with green strawberries, for $21.
Ramps With Polenta
Where: Via Carota
Price: $12
The vegetable dishes really shine here, but this new one isn't too virtuous — sautéed ramps are paired with grilled polenta and bacon.
Soft-Shell Crab a la Plancha
Where: Cafe Clover
Price: $16
Grub's first soft-shell crab sighting of the season! This one's grilled, not fried, and served with rye berries, pickled ramps, and a spring-pea aïoli.
Black Pepper-and-Vanilla Mousse
Where: Contra
Price: $67
Dinner here ends with a stunner of a dessert: a mousse made with black pepper and vanilla, and topped with both raw rhubarb and rhubarb granita.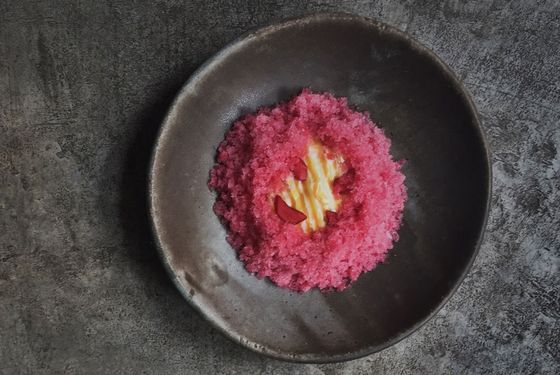 Spaghetti and Ramps
Where: L'Artusi
Price: $18
The best ramp dishes are often the simplest: All that's in this pasta is mixed wild garlic, ramps, chilies, and Parmesan.
Bruschetta Con Stracciatella
Where: Marta
Price: $16
This hearty "pizza bread" comes with stracciatella cheese, grilled ramps, and anchovy-salsa verde.
Sautéed Ramps
Where: The Spotted Pig
Price: $16
Ramp toast! April Bloomfield starts with toasted rye bread, adds a fried duck egg, and then finishes it off with sautéed ramps.