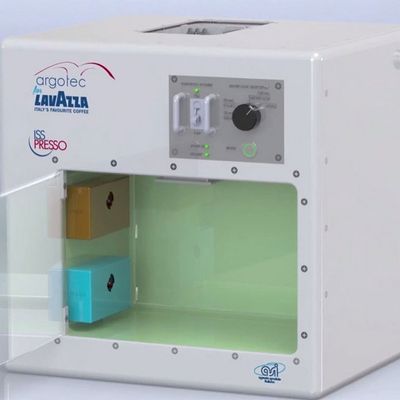 First challenge: where to put the demitasse.
The International Space Station's coffee game got serious today with the delivery of a long-awaited contraption dubbed "ISSpresso." Lavazza built the first espresso machine to ever be in space, and Italy's first female astronaut, Samantha Cristoforetti, has first dibs. Astronauts were supposed to get the machine last year, but the supply ship carrying it — one of Elon Musk's from SpaceX — unfortunately exploded.
It's a slight departure from typical flashy Italian coffee machinery: The device is being billed as a "capsule-based" system, so it's pretty much what's on everyone's countertops these days — only this contraption can handle pulling a caffè lungo instead of plain espresso at 40 times the normal pressure. It will also make hot tea, infusions, and even broth to accompany rehydrated food. All that's missing is a cold bottle of space beer.
[AP]