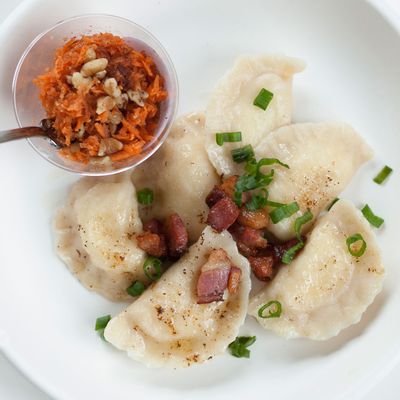 "We're aiming for that cushy grandma vibe."
Photo: Bethany Bandera
People are clearly excited about the opening of Baba's Pierogies — a fast-casual restaurant that specializes in Eastern European-style dumplings. But other than its micro-specialist theme and its Gowanus location (295 Third Avenue, near Carroll Street), there's little known about this brilliant idea. As it turns out, it's the brainchild of first-time restauranteurs Helena Fabiankovic, a first-generation American who grew up eating this kind of food, and her partner, Robert Gardner. They've been working on opening Baba's Pierogies for three years, and thinking about the project for much longer. Grub called up Fabiankovic to ask her about her secret influence, the more modern flavors, and how she's honoring an old tradition while keeping things new and fresh.
What inspired you to do this?
It's all kind of crazy! My family is from Slovakia, and they immigrated here in the 1960s. I'm a first-generation American, and I grew up in a family that holds onto a lot of traditions. When it comes to pierogis, to this day, my grandmother — Baba — makes them by hand, at home, every Friday. I'm accustomed to eating them and experiencing them this way — and part of why it's so special is because of the work that goes into it.
I've tossed around the idea of opening a pierogi restaurant since I was a kid. Then I got older, met my partner Bob — who was in the restaurant business for many years over in Montauk — and we kept talking about the idea. One day, we said, "Let's try it!" My grandmother taught us how to make her recipe, and we started making pierogis at home and started delivering them out of our apartment in Sunset Park. We brought them to friends, family, neighbors, our local bar. I was a preschool teacher at the time, so I had summers off, but once the school year started, it was a little overwhelming. We just said, "Let's see what's out there," and we happened to find our space. There wasn't a clear-cut plan, and it's been a really long process. We started this three years ago.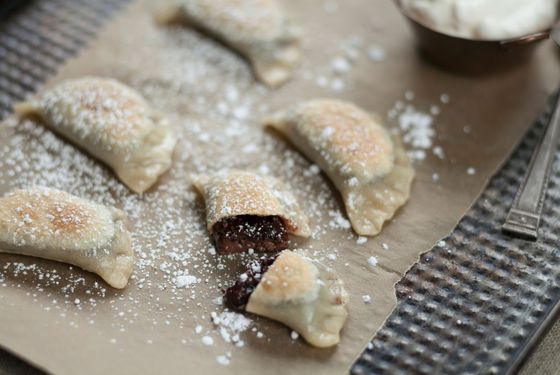 There are plenty of old-school places to eat pierogi in New York — like Veselka — but no newer concepts. How do you plan on modernizing the food, without losing the sense of tradition?
Our menu is a combination of traditional and non-traditional fillings, and we have sandwiches that mix that old- and new-world styles. When we started, I was very specific about the pierogi just having potatoes and cheese. Bob wanted to expand the menu and create twists — spinach-and-feta, crunchy-chocolate, jalapeño, mac and cheese — alongside all the classics. We do keep it fairly simple, though. And we're specific about ingredients: We have a guy up in Queens who smokes the meat himself, and also makes bryndza cheese. We have a choice of toppings and dips: horseradish, onion, blue cheese … and for sandwiches, things like Kielbasa sliders.
Are you frying pierogi to order?
All pierogi will be made fresh for the day, right on premises. We created the space so that from the counter, you can look into the kitchen and see them getting made. Customers have a choice of boiled or fried. It's all very casual — you order at the counter, and then either sit [Baba's fits just 12 customers] or take the food to go.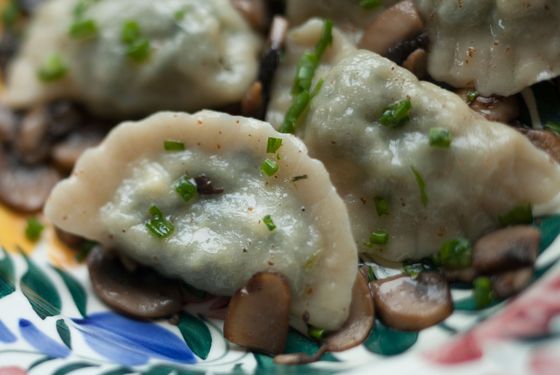 What's your favorite variation?
Just the classic potato pierogi, boiled and then fried, and topped with bacon bits.
How much will you charge?
Between $10 and $12 an order. Different fillings have different prices. Small orders come with five pierogi, and large have nine, and they all come with a dip or a topping of your choice.
Do you want to ultimately open more locations and turn this into a mini-chain, like the Meatball Shop?
Right now, we're happy to finally see an opening date. It's a beautiful space, and we're just happy to kick-start this. We're open to the possibilities. We don't say no to many things! We're excited to have everyone come to Gowanus.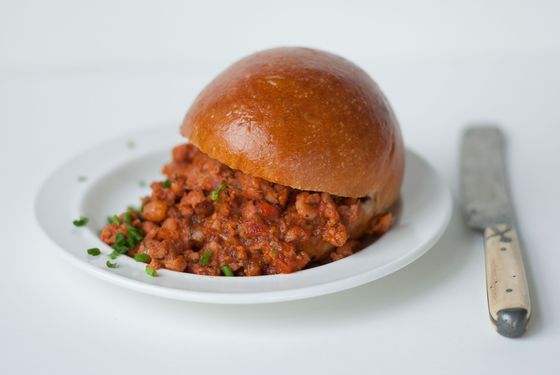 How does your grandmother feel about all this?
She hasn't seen the store since the summer. She knows that we're doing this, and she's really proud. But she's 86, so she can't get over here much. She'll be in on Saturday. I'm interested to see what she thinks! I have pictures of her and my family on the wall.
Has the outpouring of support surprised you?
The reaction yesterday felt amazing — I didn't expect it to be that big. Anytime someone is excited about what you're doing, it feels good. Especially when you're opening a restaurant! We walked into this place and it was a shell. It was not ever a restaurant, and it was ready to be one. We didn't realize, because we're so new to this. Hopefully, people will feel connected to this place because there's great food, but also because it reminds them of their family — or someone's family. We're aiming for that cushy grandma vibe.