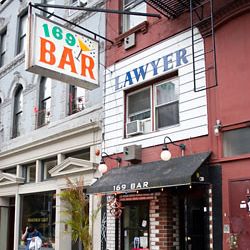 Hang in there.
Photo: Gavin Thomas
This week, New Yorkers learned that Chinatown favorite 169 Bar — which has been open for over 100 years — is in danger of closing. The city filed a lawsuit against the establishment, claiming that it permits underage drinking, but owner Charles Hanson has some serious issues with the way the police conducted the investigation.
The NYPD sent an underage auxiliary police officer to 169 Bar, who seemingly used a fake ID to get past the doorman, and then purchase alcohol. Hanson told Bowery Boogie: "The suit by the city does not allege any other incidences of underage consumption or purchase of alcohol. After examining a multitude of evidence pertaining to these allegations, it is my firm belief that the ID used by the NYPD auxiliary officer was a fake ID thus making the alleged police operation unlawful. We believe the court proceedings will show without any doubt that 169 Bar has, and will continue to, operate lawfully and with the best interests of the public and community in mind."
The court will make a decision today — here's to hoping that New York won't lose yet another of its iconic bars.