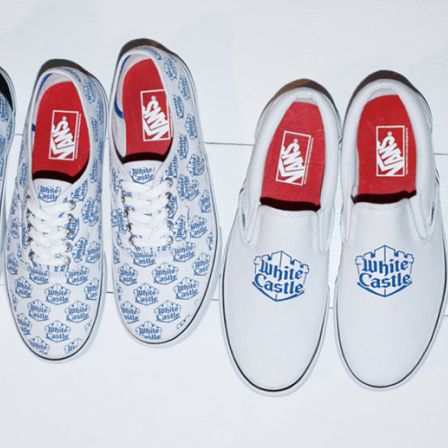 Kicks to crave.
Photo: Shoes Master
At first, the sneakers make it seem like White Castle employees have the best uniforms in the history of fast food. But this trio of kicks, which turned up in the Japanese magazine Shoes Master and are patterned with nothing but the iconic logo, are actually being unleashed on the Craver Nation at large.
They're an upcoming collaboration with Vans, a brand known to find inspiration in excellent eats from time to time, and New York streetwear brand Supreme. (Obviously Harold would wear the polished lace-ups, while Kumar would sport the slip-ons.)
It's clear comfortable kicks are a must-have for hard-core White Castle fans, anyway. Nothing like a three-hour-long line for sliders to give you bad blisters.
[Complex]