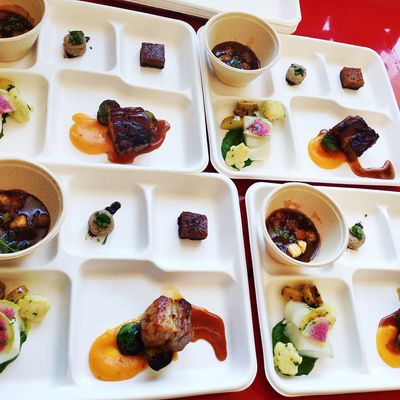 The stand's menu will change each week based on what's in season.
Photo: Jonathan Kava
Screw the ramen burgers. Someone is finally bringing a bit of civilized fine dining to Williamsburg's gravel-strewn feedlot (a.k.a. Smorgasburg). On April 4, when the great outdoor buffet reopens for the season, Jonathan Kava, a Mas (farmhouse) sous chef who's also worked at Daniel and Blue Hill at Stone Barns, will debut a chef's counter serving a four-course, set-menu meal so seemingly refined and un-Smorgasburg-like you might consider taking mom there on Mother's Day.
Here's how it works: Just show up at the Von Kava stand on Saturdays and Sundays and make a same-day reservation (eventually, Kava will set up an online reservations system). Return to the tent at the appointed time, check in at the host stand, and take a spot at a tableclothed stand-up counter set with linen napkins and disposable cutlery. (The counter in full view of the kitchen accommodates eight people at one time.) Then tuck into four courses plus an amuse bouche and a petit four, not to mention still or sparkling water service. With each course consisting of about three bites, the estimated duration of the meal, says Kava, is 15 minutes, but he won't give you the bum's rush if you linger over the petit four.
If you don't want to stand at the counter, you can take the entire meal to go, on a compostable compartmentalized cafeteria tray that looks like what might have happened if, say, David Bouley collaborated with Swanson on a TV dinner. The meals change every week based on what Von Kava finds at the Union Square Greenmarket and will range in price from $11 to $15. What you see in the above photo, clockwise from top left, is a representative meal: smoked onion soup, amuse of duck rillettes with black-garlic oil, chocolate-caramel petit four, braised pork belly with butternut squash and Brussels sprouts, and olive-oil-poached cod with watermelon radish and watercress puree.
Kava and his wife and partner, Rachel, hope to eventually parlay the experience into a brick-and-mortar restaurant, presumably one with actual seats. "I always wanted to bring fine dining to scenarios where you wouldn't expect to find it," he says. Mission accomplished.