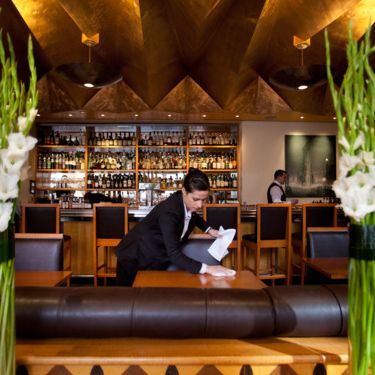 This week, Times critic Pete Wells reaffirmed Eleven Madison Park's four-star standing, reminding New Yorkers that — at least in his eyes — it still ranks among the upper echelon of restaurants in New York City. It is also, as with the case of any top-tier spot, among the most expensive and in demand, meaning reservations can require quite a bit of advanced planning. So it's not surprising that the review itself proved to be somewhat divisive, bringing out vocal readers who took issue with the praise.
He's not kidding: Commenter Richard Schloss writes, "Maybe I am a bit of a dreamer … but this experience is hardly worth $225 per person … Is it me?" Another says, "I wouldn't waste my time or money for such craziness in food. This restaurant is strictly for rich out of town people." And here's one that gets right down to it:

Theatrics, pretense, no menus, a three-card monte demonstration, lots of truffles, celery root braised in pig's bladder, what flavor is that supposed to impart? Conversations with my waiter? I can't stand that.
The solution is the restaurant's bar nook, where reservations are not taken and where most people don't think to simply drop in, which must be why doing so during prime-time hours remains surprisingly unchallenging. When Grub stopped by last night at 7:30 p.m., the bar was busy, but low key. None of the nook's five tables were immediately available, but the staff was more than happy to let my guest and me sit at the bar until one opened up, which happened mere moments after we sat down. As the host said, "people come and go."
And yet, the restaurant's $225 per person price, and its jammed reservations line, can be circumvented by New Yorkers, or anyone else, more or less completely. In fact, at a restaurant that prides itself on surprising diners, EMP's best-kept secret is that, on any given night, you can stroll in off the street, sit at a proper table, and dine à la carte for much less than you'd think.
Your mileage may vary, of course, and it's possible that we just got lucky, but the table turnover happens often enough that it's hard to believe anyone would have to wait more than 30 minutes. (And it's not like the wait at the comfy bar, with the ace staff, is unpleasant.) By 8:30 p.m., two of the five tables were free, and by 9:30 p.m. that number was three. It would have been four if I hadn't been there. The tables themselves are wide and spaced far apart — with a cushy leather banquette for seating. Which is to say, Eleven Madison Park's bar area is more comfortable than most New York restaurants' actual dining rooms.
The menu is concise and straightforward: four apps, four entrees, and three desserts. While it's true that there's a $75 caviar-and-smoked-fish dish, you can also get three courses and make it out for $68 per person if you order correctly. You might not get all the bells and whistles you'd get on the tasting menu — we didn't spot any table-side pig's bladders at the bar — but the food coming out of Daniel Humm's kitchen is no less obsessive and pleasurable than what's served in the dining room.
Right now, you can order the same delicate foie gras terrine layered with braised red cabbage that Wells raved about in his review (it's $28), served with warm, buttery rolls, of which you should make a point to eat as many as possible. There's Lobster Newburg garnished with tiny mushrooms for $38, and a generous serving of smoky cauliflower couscous for $27. It's like a small-plates meal rooted in the Escoffier tradition. For dessert, a high-end "brownie sundae" served in a chocolate sphere that diners shatter.
The service is as polished as you'd expect, too, and the staff is completely accommodating to nook diners' varying paces. Some people merely stopped in for a drink before leaving, and we hung around for roughly two hours, never feeling squeezed or rushed. In the end, our entire bill — which included five courses and two drinks — came to $231 after tip and tax. Granted, that's not exactly a cheap-eats option, but it's a far cry from the $600 or more that dinner for two would cost in the dining room. And it's a surprisingly gentle barrier of entry for anyone feeling put out by the restaurant's prices and ever-rising profile among gastrotourists: After all, how often is it that you can simply show up — with no real planning, and no real wait — and eat an easygoing dinner cooked by a kitchen staff that many consider to be among the best in the world?